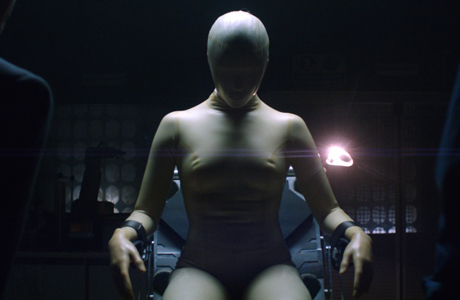 Although the Welsh-made sci-fi thriller The Machine didn't pick up any prizes at the Tribeca Film Festival this week, it did win plaudits for its slick look and the thought-provoking questions it raises. "The Machine isn't a breathtakingly original sci-fi film," writes Slant Magazine, "but it's an honorable one that impresses on the strength of both its ideas and its evocative style."
Set in the near future, The Machine stars Toby Stephens (son of Dame Maggie Smith) as a computer scientist who creates a self-aware being reliant on artificial intelligence. It's part of an overall question to build the perfect killing machine while Britain and China are locked in conflict.
"Our movie is talking about where this technology is going to take us as humans, how will that shape our humanity," says the film's director Caradog James.
James says: "The film touches upon ideas of this cold war with China, which I think is a present fear at the moment, and that's something I wanted to talk about too."
The film has received some mixed reviews, with IndieWire writing, "It may be backhanded, but it does rate as a compliment to say that when genre fans rent The Machine on DVD, they'll likely be satisfied." The central robotic character, The Machine, is portrayed by American actress Caity Lotz, whose performance has impressed some critics. The Verge writes that she's "able to sell both the human innocence of the new creation as well as its colder side. She also demonstrates some impressive physical skills, performing all of her fight scene choreography herself."
The film was one of 89 features to be shown at Tribeca this week, but it was the only one with distinctly Welsh credentials. But the Cardiff-based filmmaker doesn't want his sci-fi thriller to be labeled by its region. "I'm not really interested in this being a Welsh film," says James. "I don't go and see films because they come from a particular part of the country. I want it to be an international movie. I want it to be something that isn't going to be put in a box as a U.K. movie."
Read More
Filed Under: