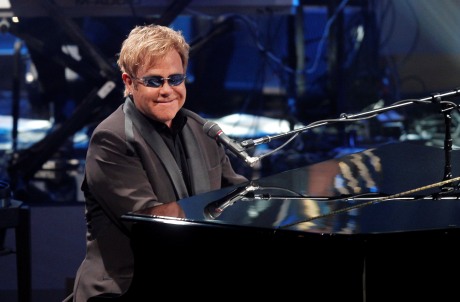 Congratulations, world, we have finally come up with an answer to a time-worn conundrum:  what DO you give the man who has everything? Well how about a little respect.
In Sir Elton John's case, this means accepting – alongside his wordsmith partner Bernie Taupin – the prestigious Johnny Mercer award at the Songwriter's Hall of Fame ceremony, on June 13. The award, named after the prodigiously talented lyricist and co-founder of the Hall of Fame, is given to outstanding writers who have already been inducted, in recognition of services to the art of popular song that are far above the norm.
Previous winners include Stevie Wonder, Stephen Sondheim, Smokey Robinson and Phil Collins.
The Hall of Fame's chairman, Jimmy Webb, who won the award himself in 2003, offered this tribute to Elton and Bernie's astounding achievements: "Some catalogues are more 'deep' and significant than others not only because of their pertinence to the times in which they were written, but because their sheer mass is overpowering. It's just not that easy to write 40 Top 10 records. It's kind of like swimming the English Channel with your hands tied behind your back.
"Elton's readily identifiable melodic piano style has proven to be a perfect accompaniment to Bernie's razor sharp lyrics about relationships and living on the edge of life both in good and bad times."
All of which is very true. But does raise an interesting question: Phil Collins before Elton John? Really?
Read More
Filed Under: