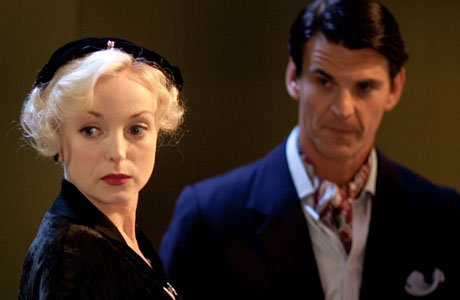 In an episode that would spark massive controversy if it were on an American TV show, the focus was squarely on birth control and abortion in the latest chapter of Call the Midwife, the popular BBC show that airs on the PBS in the U.S.
Set in 1958 when abortion was still illegal in the U.K. (it was legalized in 1967) and the contraceptive pill had yet to be introduced, the episode begins with the younger Jenny Lee (Jessica Raine) riding her bicycle through East End, making her rounds as a nurse, while the voice of the older Jenny (Vanessa Redgrave) tells viewers, "Families tended to be large in the East End."
An especially large family belongs to Nora Harding (Sharon Small), a worn-out looking mother who suspects she might be pregnant with her ninth child. She and her out-of-work husband live in two rooms in a condemned building where rats climb into her 1-year old baby's pram.  When she visits the maternity clinic and Jenny confirms that she's pregnant, a stricken Nora wails, "I can't believe it. I can't." Jenny, not fully comprehending her dismay, says, "Please don't be upset."
Nora goes straight from the clinic to knock angrily on the door of the local neighborhood abortionist, Mrs. Pritchard (Charlotte Victoria), who had given her a home remedy that obviously didn't do its job. "You might try to keep your legs crossed," the abortionist tells Nora.
Meanwhile, at Nonnatus House, the convent where the nun-midwives and young nurses live, the episode's trio of subplots are set in motion: Subplot 1) The local vicar's wife, Mrs. Clark (Lucy Russell), proposes that, at Nonnatus House's annual charity fundraising fair this year, there should be a beauty contest for babies that might feature a celebrity judge.  Subplot 2) Sister Monica Joan (Judy Parfitt), the slightly dotty, older nun, is loathe to go on seaside retreat with Sister Evangelina (Pam Ferris) because she's afraid that, given that she no longer has any official duties at the convent, she won't be allowed back. And Subplot 3) Sister Bernadette (Laura Main), the youngest of the nuns, is troubled by her growing attraction to the widowed Dr. Turner (Stephen McGann).
Sister Monica Joan fakes a heart attack so that she won't have to go on vacation. Sister Evangelina gets off a good one when she refers to the older nun as "Dame Sybil Thorndike," a shout out to a British theatrical great of the era. She then heads off solo to the retreat solo at Sister Julienne's urging, effectively disappearing f
or the rest of the episode.
From her hospital bed, a healthy looking Sister Monica Joan tells Sister Julienne, "I knew my heart would buckle. I have Aires rising and Mars in my fourth house." Sister Julienne reassures her that she is needed at Nonnatus House and, by appealing to Sister Monica notorious sweet tooth with a bowl of spotted dick pudding, has her on the road to recovery in no time.
Jenny visits Nora at her small apartment, where the bathroom is down the hallway. Everyone else in the building has been moved by the government to better housing, but the family has been left behind because there's no new apartment big enough to house all ten of them. Nora tells Jenny she doesn't want any more children. Jenny can do little more than promise Nora a referral after she has the baby she's carrying to the Family Planning Assn., a charity group.
Sister Bernadette meets with the widowed Dr. Turner to go over a list of new equipment for the clinic, which is to be purchased with proceeds from the upcoming charity fundraiser.  Unacknowledged sparks fly between the two.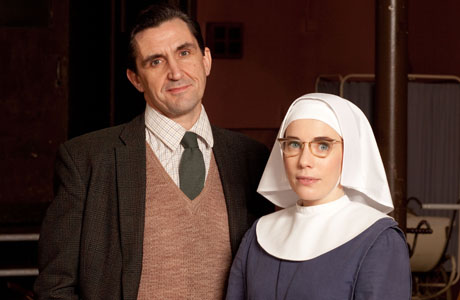 During a consultation, Nora tells Dr. Turner wants her tubes tied. "We can only sterilize where it's medically necessary," he tells her. Nora wails, "It is!"
Sister Monica Joan, now happily back at Nonnatus House, has come up with a job she can do: rolling bandages. "They are always needed where ever a geriatric shin is pocked with ulcers," she says descriptively.  Cut to Cynthia (Bryony  Hannah) and Jane (Dorothy Atkinson) merrily unrolling pre-packaged bandages so that Sister Monica Joan might re-roll them to feel useful.
A local newspaper photographer arrives at the clinic to photograph babies to publicize the baby show at the fundraiser. He flirts with Jenny and asks for her phone number, which she doesn't give to him. Later, the ever-flirtatious Trixie (Helen George) scolds Jenny, "You should have given him some encouragement. Women do now give men their phone numbers."  Trixie then tells Jenny that the photographer gave her a tip about a TV star that might be willing to serve as the celebrity judge of the baby show.
Following up on the tip, Trixie manages to lasso dashing TV presenter Clifford Raines (Tristan Gemmill), who agrees to be a celebrity judge if she will go out to dinner with him at the Dorchester. Trixie eagerly agrees.
In her squalid apartment, a desperate Nora chugs gin while sitting in a steaming bath, hoping that will cause her to miscarry. "I'm gonna get rid of it if it kills me," she tells her husband. "Because if I can't get rid of it, I'm gonna get rid of myself."
A tearful Sister Bernadette, who has been moping about for days now, has a heart-to-heart with Sister Julienne. "The truth is that I hardly know what ails me. If I could list my symptoms you could offer me a cure but you can't because I can't," she tells the older woman.  Sister Julienne gives her a reassuring smile and says they've at least made a start by talking.
Nora's gin and hot soak routine failed. She has moved on to Epsom Salts, which Jenny spots on a kitchen shelf when she comes to visit, along with a bruise on Nora's pregnant stomach. "You're more likely to hurt yourself than the baby you're carrying," Jenny warns Nora.
"There's only one way to end a pregnancy."
"And it's against the law," responds Nora. When her husband arrives home with the knitting needles and crochet hook she had asked for, Nora tells him that rather than using them, she'll be paying another visit to Mrs. Pritchard, the local backstreet abortionist.
In a pointed bit of cross-cutting, the show then shuttles between scenes of  Trixie giving herself a manicure as she prepares for her date with Clifford Raines and squirm-inducing scenes of Mrs. Pritchard giving Nora an abortion on a kitchen table.  Shots of Trixie's blood red nail polish are followed by shots of actual blood seeping onto the back of Nora's slip.
When Trixie, all dressed up and ready for a fancy night on the town, arrives at Raines's apartment for their dinner date, it soon becomes apparent the there's to be no dinner. He pounces on her and begins pawing her but Trixie, no pushover, pushes him away and exits quickly, sadder but wiser. "I was stupid and naïve," she tearfully tells Jenny and Cynthia upon arriving back at Nonnatus House. They console her and serve her hot milk.
Back at her apartment, Nora is obviously suffering serious after effects from her backstreet abortion.   At the fundraising fair at Nonnatus House, Nora's husband hints to Jenny about what happened. "She's in a bad, bad way," he says.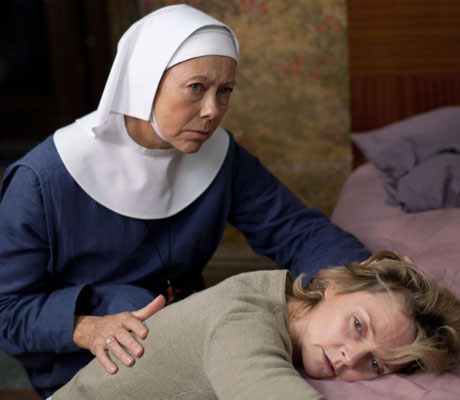 Jenny and Sister Julienne rush to the apartment, where they discover a very sick Nora, who's suffering from blood loss and a fever. "Whatever instrument was used it was doubtless filthy," tut-tuts a sympathetic Sister Julienne.
"But what she has done is illegal," says a shocked Jenny.
In a sad tone, Sister Julienne says she has seen it before. They get Nora to the hospital, where Dr. Turner says he suspects she has a perforated uterus.
While they wait to find out if Dr. Turner will be able to save Nora's life, Jenny asks Sister Julienne what she might have done differently to keep Nora from visiting Mrs. Pritchard. "She would have done it anyway," Sister Julienne says wearily.
While Dr. Turner is working on Nora, Sister Bernadette takes his place, competing in a 3-legged race with his son at the fair.  After tripping, she cuts her hand. Dr. Turner arrives. In the guise of helping to clean wound, they exchange a meaningful look and he kisses her palm. Sister Bernadette snatches her hand away.
"I'm sorry. That was unforgivable," Dr. Turner says.
"At this moment I only know that I'm not turning my back on you because of you but because of Him," she says softly.  As Dr. Turner departs, Sister Bernadette looks stricken.
Not surprisingly, Clifford Raines cancels on judging the baby show. Sister Monica Jane is selected to replace him, an honor that swells her with pride and a feeling of being useful.
We learn that Nora lived. As the show ends, we see her and her family happily walking through a rural field on their way to the new, larger housing the government has finally found for them. "Nora's life was saved by doctors who asked no questions," the older Jenny tells us in a voiceover. "But she never conceived again."
What was your reaction to this episode?
Read More
Filed Under: