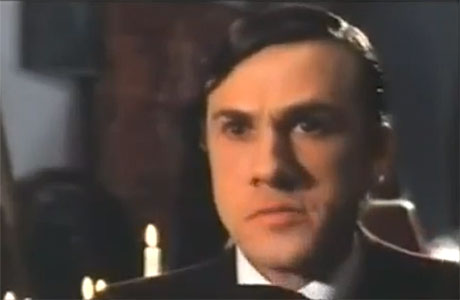 Showbusiness is a strange place to try and make your home. One day you're Hamlet, the next a talking pork chop, and there's no sense in trying to work out how an actor jumps from one place to another; bizarre juxtaposition is an occupational hazard.
That said, it's always a joy to discover than a current hot talent has some unusual anomalies deep in the hidden recesses of their resume. In that spirit, here's an unexpected delight that came up this morning, from the twitter feed of the comedy writer Graham Linehan.
It seems that, in the mid '90s, he and his then partner Arthur Mathews, had written a sketch show for the comedian Alexei Sayle, with the refreshing title The All New Alexei Sayle Show. It would take a while to fully explain who Alexei Sayle is if you don't know, but to give context to the cultural impact of the show itself, The All New Alexei Sayle Show, while not unpopular, is largely unremembered even on the British side of that big sea thing between here and there.
So, it came as much of a shock to Graham as anyone else, to discover that one of the actors in his sketch The League of Hirsute Gentlemen is actually Christoph Waltz: movie star, Golden Globe winner (for his part in Quentin Tarantino's Django Unchained), and current Oscar nominee.
Of course, he was still Christoph Waltz then, but he wasn't yet Christoph Waltz, if you know what I mean.
Graham confirmed he hadn't made the connection himself, tweeting: "Honestly had no idea about that until about five minutes ago. Amazing.
Read More