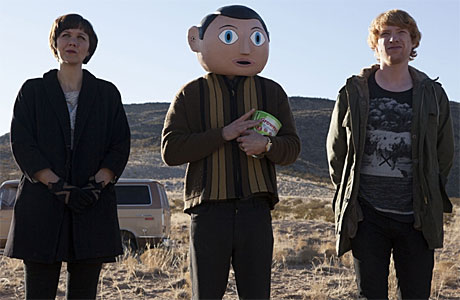 What's that you say? Where's Michael Fassbender? That's him in the middle, flanked by Maggie Gyllenhaal and Domhnall Gleeson! You know it is! It really is!
And this is no Hallowe'en cosplay moment, it's a still from a new movie, Frank, currently being shot in New Mexico, in which Michael plays Frank, an outsider showman with great comic preposterosity, at the helm of an indie band, very much like the cult British entertainer Frank Sidebottom, in fact.
The movie has been written by Jon Ronson (who also wrote the George Clooney film The Men Who Stare At Goats), adapted from his book of the same name with some assistance from Peter Straughan (Tinker Tailer Solder Spy), and it's going to be very eccentric indeed.
This is the actual Frank Sidebottom in action, talking about the Beatles and singing "Twist and Shout"
Jon was, at one time, a member of the Frank Sidebottom Oh Blimey Big Band (that's Domhnall playing a version of him, above), and while the movie isn't a straight biopic – more a fantasy narrative using some real people – he has based the Frank character on Chris Sievey, a man so committed to his peculiar vision he would never admit to being the guy in the mask. Similarly, Frank Sidebottom claimed not to know Chris Sievey very well.
Oh and there are a few characteristic quirks from fellow outsiders Daniel Johnston and Captain Beefheart thrown in, for international appeal, and the nasal Mancunian whine has apparently not made the transition, but let's face it, singular as they were, they never wore that head.
And yes, I know, 'appeal' is possibly not the right word.
Read More
Filed Under: