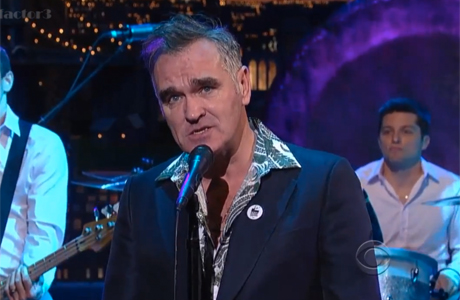 The same day David Bowie emerged from his decade-long exile (January 8), Morrissey popped up on The Late Show with David Letterman, lassoing his microphone cord, surrounded by his studly band in fitted button-up shirts, performing his new tune "Action is My Middle Name" (a cut off his long-delayed album). The appearance was a teaser for the continuation of his North American tour, which had been interrupted by his mother's illness. She's apparently doing better now, and he has resumed tour dates with a concert tonight in Brookville, New York.
Watch and enjoy. The man can still rock a printed butterfly collar with the best of 'em:
http://www.youtube.com/watch?v=tQAKetuk_Yc
Are you still a Morrissey fan?
Read More
Filed Under: