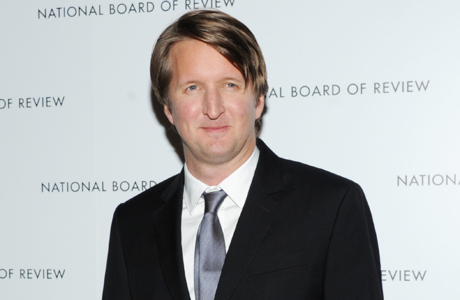 British director Tom Hooper — who was snubbed by the Academy last week when it chose not to give him a Best Director Oscar nomination for Les Misérables — has willingly weighed in over whether or not feature filmmakers should fictionalize when telling real-life stories.
It's a topical issue with Oscar contenders Lincoln, Argo and Zero Dark Thirty all having had – to varying degrees- aspects of their storytelling challenged.
Hooper says: "I am no stranger to films based on real people, I think there's a huge duty to research and be as accurate as possible with your filmmaking because for a lot of people they are going to take your movie as historical fact."
Argo, which focuses on the rescue of six Americans from Tehran during the 1979 hostage crisis, has been criticized on several grounds including minimizing the role of Canadians in the rescue mission – and for fictionalizing the film's climactic ending.
Ben Affleck, who directed and stars in the picture, uses the views of celebrated German director Werner Herzog as a reference point in defending the fictionalizing in the film. Affleck says: "Werner Herzog said there's the accountant's truth and that there's the poet's truth. With the poet's truth you're getting at the essence of what's truthful, even though you're not reproducing precisely the way that people talked or are going through niggling details."
Hooper believes because film is so powerful as a storytelling medium directors need to be responsible when handling fact-based films. He says: "If we could assume that every audience member would watch your film and then go and read a book on the subject to get another view then maybe one would be more free – but in reality films have such a dominant power of setting historical traditions."
The film that's attracted the most controversy for its storytelling is Zero Dark Thirty which tells the story of the hunt for Osama bin Laden. Irrespective of what the filmmakers intended it left the impression with many that torture was instrumental in capturing bin Laden.
The perception that Zero Dark Thirty misrepresented the role of torture in tracking down the Al Qaeda leader — and other controversial aspects of the film — may partly explain why its director, Kathryn Bigelow, failed to get a best director Oscar nomination last week.
But Bigelow, of course, wasn't the only director to miss out on an expected Oscar nomination — so was Tom Hooper, who's received considerable praise for his role in directing Les Misérables.
Hooper can take solace in the fact that he got a best director nomination from the Directors Guild of America. He says: "I was so thrilled because it's all your peers, it's all directors, assistant directors, they really know what directing involves. I screamed for joy when I found out."
Read More
Filed Under: