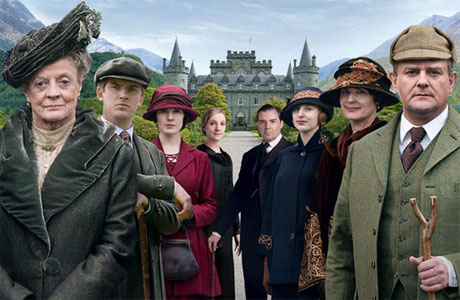 The Producer's Guild of America announced the nominations for its annual awards ceremony yesterday, and amid hat-tips for the producers of venerable American movie and TV institutions like 30 Rock, Homeland and Lincoln, there are a couple of modest British achievements that probably deserve a mention, possibly even a firm handshake for everyone involved.
In the movie category, the Outstanding Producer award nominations include Argo, Beasts of the Southern Wild, Django Unchained, Les Misérables, Life of Pi, Lincoln, Moonrise Kingdom, Silver Linings Playbook and Zero Dark Thirty, but the most interesting nomination as far as we're concerned – especially in the light of Timothy Dalton's comments yesterday – is for Skyfall.
Meanwhile, at the TV end of things, Sherlock's producers have been nominated in the Long-Form Television category, and will face stiff competition from American Horror Story, The Dust Bowl, Game Change and Hatfields & McCoys. That's not to say it won't beat them all horribly, of course.
As for Downton Abbey, well that's going to have to fend off the likes of Breaking Bad, Game of Thrones, Homeland and Mad Men if it wants to secure that Episodic Television Drama gong.
The only outstanding question is whether we should consider a nomination for Brave in the Animated Theatrical Motion Picture category to be a British triumph. It is, after all, set in Scotland, has a largely British cast, and compared to Frankenweenie, ParaNorman, Rise of the Guardians and Wreck-It Ralph, may as well be made from tea and crumpets, and, y'know, haggis.
The full list of TV nominees is as follows:
The David L. Wolper Award for Outstanding Producer of Long-Form Television
American Horror Story
The Dust Bowl
Game Change
Hatfields & McCoys
Sherlock
The Norman Felton Award for Outstanding Producer of Episodic Television, Drama
Breaking Bad
Downton Abbey
Game of Thrones
Homeland
Mad Men
The Danny Thomas Award for Outstanding Producer of Episodic Television, Comedy
30 Rock
The Big Bang Theory
Curb Your Enthusiasm
Louie
Modern Family
Outstanding Producer of Non-Fiction Television
American Masters
Anthony Bourdain: No Reservations
Deadliest Catch
Inside the Actors Studio
Shark Tank
Outstanding Producer of Live Entertainment & Talk Television
The Colbert Report
Jimmy Kimmel Live!
Late Night with Jimmy Fallon
Real Time with Bill Maher
Saturday Night Live
Outstanding Producer of Competition Television
The Amazing Race
Dancing with the Stars
Project Runway
Top Chef
The Voice
Outstanding Sports Programme
24/7
Catching Hell
The Fight Game with Jim Lampley
On Freddie Roach
Real Sports with Bryant Gumbel
Outstanding Children's Programme
Good Luck Charlie
iCarly
Phineas and Ferb
Sesame Street
The Weight of the Nation for Kids: The Great Cafeteria Takeover
Outstanding Digital Series
30 Rock: The Webisodes
Bravo's Top Chef: Last Chance Kitchen
Dexter Early Cuts: All in the Family
The Guild
H+ The Digital Series
Red vs Blue
Read More
Filed Under: