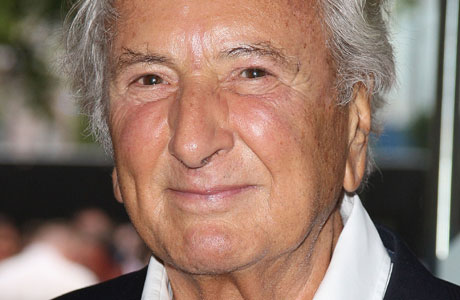 Michael Winner, the director of Death Wish (among many other films), the food critic that made chefs either cry or put unspeakable things in his food, the outspoken foe of censors (particularly those who would seek to make him re-edit his films), has died, aged 77.
Always a brash figure, and something of a self-publicist, the young Winner made his mark as a journalist first, working for the Kensington Post, the NME, and something called Showgirl Glamour Review (probably best not to ask). He then started working for the BBC, making TV shows.
His big screen directorial debut was on the documentary This Is Belgium, which, due to cost, was largely shot in and around East Grinstead in West Sussex. This Isn't Belgium would've been perhaps more accurate.
However, he wasn't shy of putting his own past on screen, as he did with Shoot To Kill, a thriller with a showbiz reporter  His first dramatic movie, Shoot To Kill, is a thriller about a showbiz reporter.
In 1964, he began what was to be a fruitful collaboration with Oliver Reed, starting with The Jokers:
…and continuing with I'll Never Forget What'sisname:
http://www.youtube.com/watch?v=3VyZfVuFUPI
…before rounding out nicely with Hannibal Brooks:
But it's 1974's ultra-violent Death Wish, starring Charles Bronson, that really put the cat among the pigeons, then shot the lot:
Of course, to a generation (or possibly two) of British TV watchers, he'll always be known as That Man from The Cheesy Car Insurance Commercials:
I'm not even kidding, "calm down dear" was the "keep calm and carry on" of its age, albeit less likely to launch an exhaustive range of merchandise.
After leaving the movies behind in 1998, Winner returned to journalism, writing scabrous restaurant reviews for the Sunday Times. He was principally known as something of a windbag, and not above blowing his own trumpet in the same way that downstairs is not above upstairs. But, as his later appearances on twitter proved, he knew this about himself, and celebrated it with his tongue firmly in his cheek.
As he summed himself up late last year: "I've had an incredible life. Brando was my best friend, Mitchum, Burt Lancaster, even though he tried to kill me three times… I can look back and say I have lived a life that very few people alive have lived. I have done 40 major movies with the biggest stars in the world."
And modest with it. Right to the end.
Read More
Filed Under: