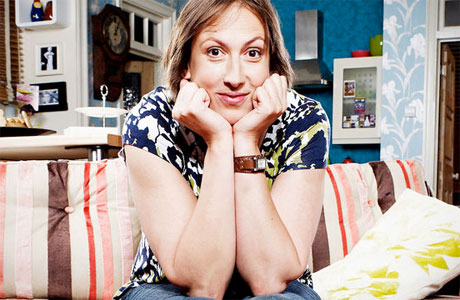 BAFTA-nominated comedienne Miranda Hart, 39, (Call the Midwife) is set to publish a follow-up book to her recently published self-help autobiography Is It Just Me? (October 2012).
With the success of her "Miran-ual" Hart has signed up for a second book called Peggy and Me, due out in 2014, reports The Book Seller. Her sophomore title will illustrate her adventures with her dog, Peggy. Peggy will share her observations on life as well.
The book will be in the same vein of Is It Just Me? where Hart details the humiliating yet entertaining pitfalls in her life like being mistaken for a pregnant woman on the train; having bog roll (toilet paper) tailing behind you through a pub. And, most importantly, how to avoid them.
If Miranda Hart is new to you, then this YouTube video We Love Miranda Hart will speed you up on her hilarious BBC sitcom simply called Miranda. Her character is amazingly awkward but undeniably confident.
Do  you ever have a Miranda Hart kind of day? 
Read More
Filed Under: