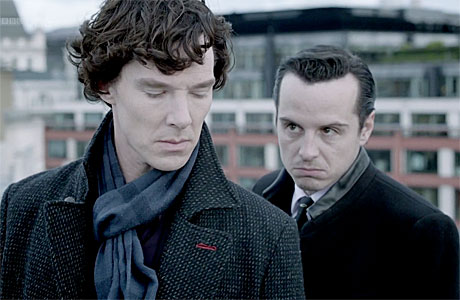 Consider this a new year's resolution. Rather than wasting everyone's time with a list of self-improving abstract demands, like "read more books" or "get some exercise," we have a very specific idea of what we will need to discover before 2013 is all packed away and stored in time's dusty old loft. If our demands are not fully met, we will consider the year to be a failure, and may even decide not to renew the subscription on future years, to avoid further disappointment.
1: How did Sherlock die and yet not die?
A lot of people have theories about how this feat of not death could have been achieved. Few people get to fall from a tall building and land on the pavement below without suffering at least the mildest symptoms of being killed, and yet somehow Sherlock, from Sherlock, appears to have done exactly that, and it's not just Watson that is going to be hotly demanding to know how. We are too.
2: Who is Clara Oswin Oswald?
So far we are up to three iterations of Jenna-Louise Coleman's character in Doctor Who: the girl in the Dalek prison, the Victorian barmaid-stroke-governess from The Snowmen and the nowadays girl who likes to walk through graveyards. We don't know if she gathers an extra name with every new appearance – so by the fifth episode of Season 7 she's actually called something like Clara Elizabeth Mary Gavin Spandex Melancholy Oswin Oswald – or if she's being physically reincarnated each time, or what. But we'd like to know. We'd like that a lot.
3: What will Adele's "23" sound like?
Let's be honest, we like Adele best when she's fed up. Even on her first album 19 there were songs of longing and feeling lost, and what with 21 containing quite so many songs of sheer pointed frustration and sadness, no one is quite sure what the songs from a contented, successful, new mum Adele would sound like; "Please Please Go To Sleep"? "It's Your Turn To Sterilize The Baby Bottles"? "Oh Where Did That Pacifier Go?" And before you quibble, there HAS to be a new Adele album out this year, and it HAS to be called 23 or her album-titling pattern is ruined.
4: How will we all get by without Merlin?
I think we can all agree that it was a brave decision to bring Merlin to a definite end, rather than going for a sixth or seventh series and somehow diluting the fun of the show. But, even if you haven't snuck a peak at how it all pans out, and are agog for the first episode of Season Five to be shown this Friday, there has to be a nagging worry at the back of your mind that there will be a time when there is no more Camelot, no more bickering between king and wizard, no more secret magic and no more huffy Morgana. So, what magical history will we rally around then? Which mast shall we fly our flag from? Who will provide British character actors the chance to voice a TV dragon for 2013 and beyond?
5: Can we get through an entire year without seeing Sir Paul McCartney play "Hey Jude"?
Cards on the table, I'm a huge fan of Sir Paul, love the Beatles, love "Hey Jude" and generally do not get remotely wound up, as some do, by his insistence on being alive despite the continuing non-aliveity of his former band-mates John and George. It might seem an insult to some people's personal preferences on the matter, but it's just something we're all going to have to learn to accept.
However, we've had a lot of very public celebrations in Britain over the past few years, what with the Queen's Jubilee and the Royal Wedding and the London Olympics and whatnot. And the one thing you can guarantee will happen at pretty much all of them is that Sir Paul will appear at some point, and blam out "Hey Jude". He did it at the Olympic Opening Ceremony, appearing AFTER the fireworks, which is a brave place to put yourself considering how notoriously hard to top fireworks are.
So, for the sake of everyone's continuing enjoyment of the man and his astonishing muse, I would like to suggest a year off. Maybe two years off. Maybe it's time for Sir Paul to let someone else have a go at singing a crowd-pleasing anthem at the end of a public ceremony. Maybe we'll all enjoy "Hey Jude" a lot more when it's put back into its original historical context, as the A-side to "Revolution."
OK, 2013, you have your instructions. Do not let us down.
Feel free to add your own questions below, and we'll review the answers in a year (if we remember).
Read More
Filed Under: