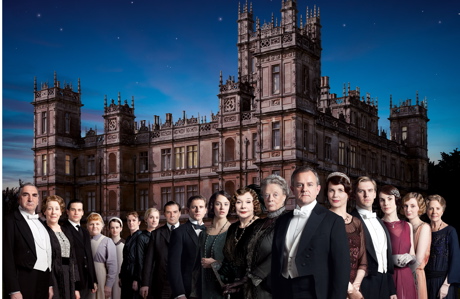 Now that we know we're not going off the fiscal cliff, it's time to focus our anxieties on other pressing issues, namely Downton Abbey.
The popular British period drama begins its third season on PBS this Sunday (January 6). The show attracted more than 17 million viewers during its second season on PBS and the network has already announced plans to air Downton's fourth season.
Here at Anglophenia, we'll be doing recaps on Monday mornings of the previous night's episode, beginning January 7. If you haven't watched the previous evening's episode yet, don't read our recaps because there will be spoilers aplenty.
Just to get us all in the mood, here are five pressing questions we have about the coming season:
1. Will Maggie Smith and Shirley MacLaine get into a knock-down, drag-out cat fight?
You know the type of fight we mean — like those battles royal between Alexis (Joan Collins) and Krystle (Linda Evans) back in the day on Dynasty. Smith plays the redoubtable Dowager Countess, the queen of the snarky one-liner, and MacLaine is joining the series for a couple of episodes this season as the flamboyant mother of the American-born Lady Cora. In the Season Three trailer, it's clear that these two older gals are frenemies from way back. Will they confine their digs to cutting remarks at each other's expense, or will they get physical?
2. Will Matthew and Lady Mary finally consummate their relationship?
Talk about delayed gratification. These two perfectly healthy (now that Matthew can walk again) young adults have waited through two seasons of longing looks and lustful stares and, what, one kiss at the end of last year's Christmas episode? C'mon already, you two, let's get it on.
3. Will Bates be sprung from the hoosegow?
Poor Bates.  He suffers, suffers and then suffers some more. Then again, he at least got to have a wedding night with Anna before he went away, which puts him ahead of Matthew and Mary. Still, the guy deserves a break. Here's hoping in season three his name is finally cleared, he gets out of jail, and then spends the rest of the season doing nothing more arduous than polishing Lord Crawley's cufflinks and shining his shoes.
4. Will Thomas finally get a boyfriend, please?
Yes, it's true, we feel sorry for the guy, no matter how evil he is. Other than a bit of covert nooky with a visiting aristocrat very early in Season One, his sex life has been as chaste as a G-rated movie. Give this ambitious servant a break. Find him a nice fellow this year. Maybe if Thomas was getting more action between the sheets, he wouldn't have as much free time, or the need, to plot and connive against nearly all the other residents (excepting his co-conspirator O'Brien) of Downton Abbey.
5. Will Edith stop being so pathetic and annoying?
Edith, the least attractive of the Crawley sisters and a classic middle child, can't seem to make a go of anything. She falls in love with inappropriate men, lacks a real occupation, tattles on her sisters, and otherwise proves constantly irritating. Here's wishing that in Season Three, she grows the female equivalent of a pair, figures out what she wants from life, meets a suitable suitor and stops being such an irksome pest.
———————————-
What are your big questions for Downton Abbey's third season?
———————————-
Read More
Filed Under: