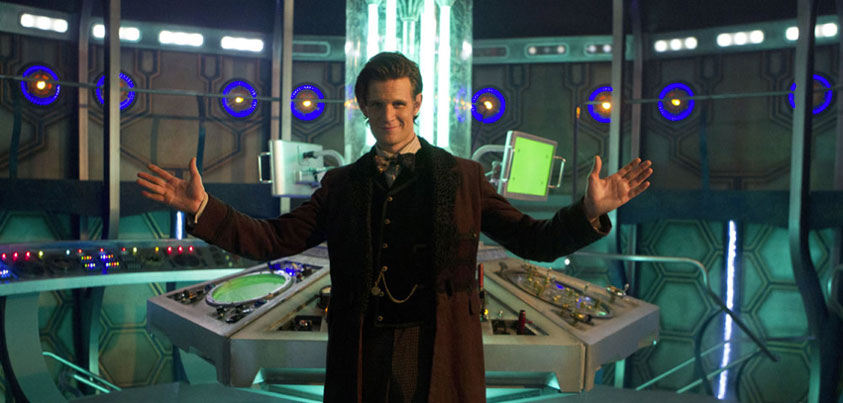 Today we've seen the launch of a rather splendid Whovian initiative. Eleven authors have been commissioned to write ebooks for the British publisher Puffin, based on the eleven Doctors, and these will have a staggered release across the year, on the 23rd day of each month, so that the Eleventh Doctor's story arrives on November 23, the date of the actual 50th anniversary.
To raise anticipation for each book, the identity of the writers – each one a big name in children's literature – is being kept a secret. What we can tell you is that the first book, featuring the First Doctor, is called A Big Hand for the Doctor, and it has been written by Eoin Colfer, author of the Artemis Fowl books, and  the man who took on the formidable task of writing some more Hitchhiker's Guide novels.
Oh, and on the eleventh of each month (thematic numbering, see?) there will be a promotional video on the BBC Worldwide Doctor Who YouTube channel, that features each author as they come up. Eoin's will be out on Friday, and A Big Hand For The Doctor is available for pre-order for $2.68 for Kindle on Amazon.com.
Oh, and if you haven't seen the Doctor Who stamps, click here for a gander.
Here's what else is going on in space and time this week:
• Who do you suppose could do the most probing interview with Steven Moffat of all time? Well you're wrong, it's already been done, and it was done by his son Joshua, who has a YouTube channel under the name Armytedd:
http://www.youtube.com/watch?v=5eu5xtc-x3k
• Speaking of the First Doctor, his romp through the French revolution, The Reign of Terror, is coming out on DVD on January 28. The two missing episodes of the story have been replaced by animation, so it's now complete. Here's a trailer:
• Big news: BBC AMERICA has announced that the eight-part ensemble drama Broadchurch will make its U.S. premiere on the channel this year. Why is this significant to Whovians? Well, it stars Doctor Who alums David Tennant, Arthur Darvill, and Olivia Colman (who appeared in "The Eleventh Hour"), and is written and created by Doctor Who and Torchwood scribe Chris Chibnall. From the producers of The Hour, MI-5 and Life on Mars, Kudos Film and Television, and distributed by Shine International, Broadchurch explores what happens to a small community when it suddenly becomes the focus of a major murder investigation and is subjected to the full glare of the media spotlight. BAFTA winner Vicky McClure also stars.
• Here's a nice post from Den of Geek: 9 Things We Know About Clara/Oswin. It's the kind of thing you might want to refer back to before the second half of season seven begins.
• Did you see Matt Smith reading poetry for Disney last week? It's lovely, lovely stuff.
• And this is a must for all would-be TARDIS travelers (from The Marauder's Map):
• Feeling cocky about your Whovian knowledge? Sure you can take on all comers in matters of Time Lord trivia? You need to take the Doctor Who quiz of the year, to prove it.
• Let's have a big hand for David Tennant: the star of Spies of Warsaw and Broadchurch will be welcoming a new addition to his family, it was revealed on Jonathan Ross's chat show last week. Tennant previously had a child with wife and former Who co-star Georgia Moffett back in 2011.
• Oh this is rather well done! A Star Wars/Tenth Doctor mashup that emphasizes the doom, and the gloom, and the boom:
And to finish, there is this, from Looser's Diary:
Read More
Filed Under: