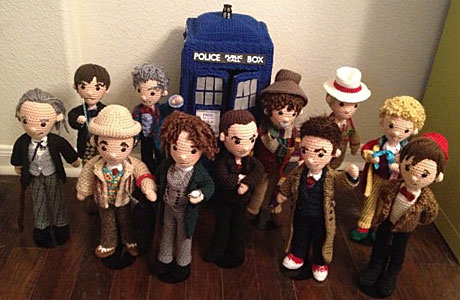 Oh America you dark horse you! Fancy keeping something this delightful hidden for so long!
Welcome, to anyone unfamiliar with her work, to the astonishingly nimble fingers of Austin, Texas's crochet marvel, Allison Hoffman, who trades under the name Crafty Is Cool. Now Allison is not the first person to crochet or knit the cast of Doctor Who (remember the Doctor Who knitting circle part 1?), but she's done such a bang-up job, it's hard not to descend into outright dribbling worship.
Look at this, for example. The expression on his face!
Or this!
Allison, who has already crocheted American entertainment legends like Conan O'Brien, and Martha Stewart, had been commissioned to make the eleven Doctors and the TARDIS by a Whovian customer, who wanted to give them to her husband for a present.
She told the Sun: "They each took about five days from start to finish. My favourite to make was the Fourth Doctor, Tom Baker. I loved making that scarf!"
And the commission had dramatically altered her opinion of Doctor Who: "Before taking on this project, I had only seen the newer Who and not very many episodes. But now I feel like I know all of these people personally!
"I've done a tonne of research on them and would easily consider myself a Whovian at this point."
Not that she's exclusively brand loyal. Her latest project is a version of Harry Potter's sorting hat (she's giving the pattern away for free, if you're a crochettist yourself), and it's ALSO insanely good:
Now, let's not be keeping any more secret treasures like this, OK?
For more info on Allison's Doctor Who patterns, go to Crafty Is Cool. 
Read More
Filed Under: