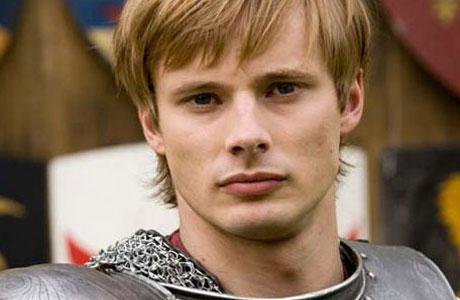 Tomorrow evening at 10/9c, SyFy will be showing the first episode of the final season of Merlin. We'll be recapping the episodes as the season progresses, taking in all manner of magical maladies and generally buckling up that swash as we go, but farewells do have a habit of leaving unanswered questions in their wake, not the least of which is "what will we do with ourselves when it's all over?"
Bradley James has already had to face that question, months before US Merlin fans, and he appears – if a recent interview with the Los Angeles Times is anything to go by – to have decided it's best just to leave things as they are, put the past behind him and face the future head on.
Which means he's not mad keen on any potential future Merlin spin-offs, and appears to be fairly sniffy about a movie version too.
"It was something discussed," he explained, "but I think it's time for me to hang up the chain mail, to be honest with you, and pass the mantle on to the next person who shall take on the throne of Arthur Pendragon."
Wait, he thought he was playing Arthur's THRON… oh I see.
He continued: "The post-Merlin era is an exciting time to look forward to. Variety is the spice of life.
"That's the fantastic thing about acting – all the different challenges it can provide you with. To limit yourself just to one would be foolish, therefore I'm looking forward to different things that come my way."
Something we're all going to have to do, in about 13 weeks' time.
Read More
Filed Under: