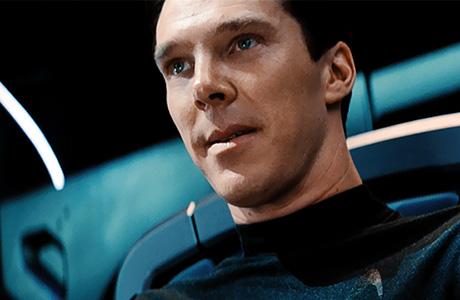 MTV News caught up with Sherlock's Benedict Cumberbatch at last night's (1/13) Golden Globe Awards. Cumberbatch was nominated (alas, he didn't win) and you could tell he was hyped for the night.
He was really into the interview but kept getting distracted by his fellow Brits hitting the red carpet. First it was screams for Robert Pattinson; followed by Adele. Cumberbatch was caught off guard and yelped, "Ohmygawd it's Adele. She's British." So is Pattinson but maybe not quite his cup of tea. Aw, it's nice to see the camaraderie either way.
So, after all that … MTV News finally got down to business and Cumberbatch delivered a single line of dialogue from Star Trek Into Darkness in which he plays villain John Harrison.
What. Was. It. ??
… the line is at the end of the video but it's a fun clip and worth watching the entire interview rather than skipping ahead.
What do you think? 
Read More
Filed Under: