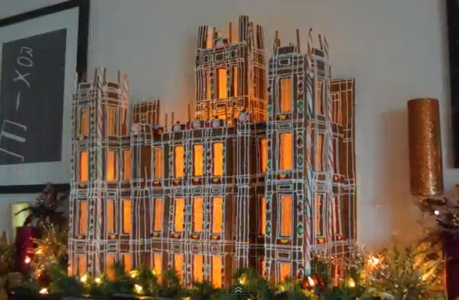 Here's a delicious take on Downton Abbey. Curtis Jensen, a San Francisco-based graphic designer and photographer, built an exact gingerbread house replica of the hit British TV show's titular manor.
He posted a five-minute video on YouTube last week of the entire baking and construction process using time-lapse photography. So far, it has attracted more than 30,000 views.
Take a look:
It took Jensen two weeks to complete the scrumptious project. Should you be tempted to try it yourself, just FYI, that's crushed butterscotch candy filling the windows.
Downton Abbey is filmed on location at Highclere Castle, which is home to the real life Earl and Countess of Carnavon when it's not housing the show's fictional Lord and Lady Crawley and their brood. The non-edible castle, which is located near Newbury about 70 miles west of London, is open to visitors during the spring and summer. Public tours resume beginning March 30.
The popular series' third season begins airing on PBS on Jan. 6.
Read More
Filed Under: