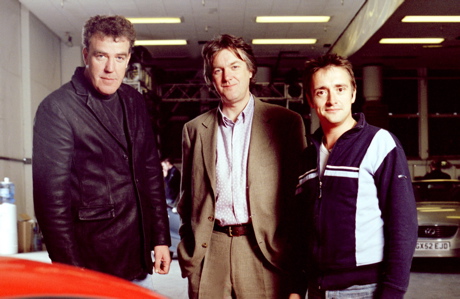 Never fear, Season 19 is near!
You've been reading enticing tidbits here and seeing photos of tantalizing sightings there. One day the guys are in Vegas, on another Jeremy is seen in a futuristic looking car/suit-with-wheels.
Now, we're getting more confirmed information about the new season, which will air sometime next year. Yes, the triumvirate drove an Aston Martin Vanquish, SRT Viper and Lexus LFA in an American road trip that included Las Vegas, Los Angeles and then "a hair raising run on the Mexican border." Along the way, there was also a race against fighter planes.
Messrs Clarkson, May and Hammond also undertake a momentous challenge against a train to conclusively ascertain the fastest way to get from Britain to Italy for a soccer match.
And Jeremy, James and Richard embark on one of their epic journeys, this time to Africa, where they'll attempt to discover for themselves the source of the Nile, while "along the way they encounter crocodile infested rivers, suspension snapping terrain and the world's worst traffic jam."
• Some say that he has a pathological fear of paper napkins as the result of an unresolved childhood trauma. All we know is, he's called The Stig. And that he showed up for the opening Luppy's Diner, an American-style restaurant in a town called Morley that's part of the borough of Leeds in West Yorkshire.
"The Stig told me afterwards that people were so friendly, he loved it," said Mark Lupton, who opened the restaurant with his brother, and hopes to appeal to car enthusiasts. "People old and young came to speak to him and he had a really good day as well." (via the Morley Observer & Advertiser)
• On the off-chance that we make it through the rest of 2012 without the Mayan apocalypse, you're probably going to need a calendar for next year. As always, Top Gear's got you covered.

This month's magazine includes a special free 2013 calendar, with photos of Top Gear's favorite cars, shown in beautiful locations around the world. Kinda like Sports Illustrated swimsuit calendars, but without the models. Or the bikinis.
• Mumbai, the fourth largest city in the world, has been an historic place for centuries. But we know it's really on the map now that it's hosted its first Red Bull Soap Box race.
Top Gear India reported that among the 53 teams competing in Mumbai earlier this month were soapbox cars in the shapes of a pizza slice, a toilet seat, a battle tank and even a coffin.
Bollywood movie star Imran Khan showed up with a vehicle in the form of a pink cow wearing sunglasses.
Read More
Filed Under: