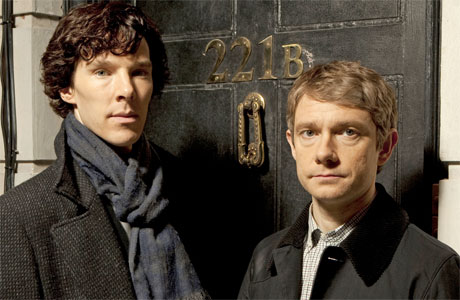 Steven Moffat's Sherlock, starring Benedict Cumberbatch and Martin Freeman, has been named TV Show of the Year (2012) by Radio Times magazine, reports RadioTimes.com.
Surely Sherlock fans are collectively saying "duh" as they already know this show tops the list. Even so, it's still nice to be recognized by your pairs.
Radio Times magazine hosts an annual poll of critics and writers to find the best show on TV in Britain.
"Sherlock delivered the TV event of the year with three perfect episodes," said RadioTimes.com editor Tim Glanfield. "Nothing got people talking more than that cliffhanger series finale – and that was as true here at Radio Times as it was in offices and school playgrounds around the country.
Responding via email, series co-creator Moffat wrote: "I've just had a word with all the others, and we're so pleased by this latest accolade from the Radio Times, we've decided to tell you how Sherlock survived the fall – oops, we're out of space!"
The American HBO series Homeland starring Claire Danes came in second, followed by the Olympic-themed 'mockumentary' Twenty Twelve.
Read More
Filed Under: