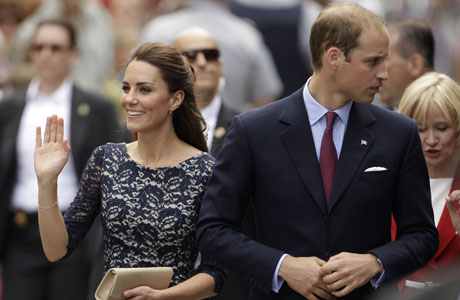 In the interests of not boring the hell out of the entire world, plus, y'know, personal respect, we weren't going to run too many pregnancy stories about the Duchess of Cambridge, but this one contains the reason why it's a bad idea to join in all the fuss, fan the flames and generally be part of the problem, so it's probably fair enough.
It seems the desperate urge to gather information about Kate's time in hospital has lead some media outlets to take extreme measures. Cutting to the chase, Mel Grieg and Michael Christian, presenters on the Australian radio station 2DAY FM, for example, rang King Edward VII's Hospital, pretending to be the Queen and Prince Charles, to see what would happen.
Mel said, as the Queen: "Hello, I'm just after my granddaughter Kate, I wanted to see how her little tummy bug is going."
Sadly, their puckish giggles died out pretty quickly when it became apparent that hospital staff were entirely taken in by the ruse, offering confidential medical information about Kate's condition, and her morning sickness, directly from her ward.
John Lofthouse, chief executive at the hospital, told the Telegraph: "King Edward VII's Hospital deeply regrets this incident. "This was a foolish prank call that we all deplore. We take patient confidentiality extremely seriously and we are now reviewing our telephone protocols."
Michael Christian, who had impersonated Prince Charles, was as startled as anyone when they got through to the ward: "I thought we'd get hung up on!"
And needless to say, edited versions of the entire conversation are now available across the internet, accompanied by outraged blog posts from people saying it was an awful thing to do.
So what starts as a story about a pregnant woman ends as a story about the media doing what they/we always do when something interesting happens, running amok, while pretending not to have any influence over events whatsoever, like electronic poltergeists.
Read More
Filed Under: