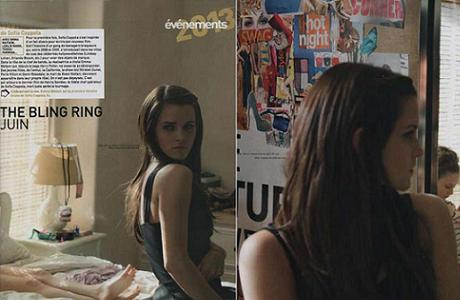 Emma Watson (Harry Potter) leads an ensemble cast of up-and-comers in Sofia Coppola's film The Bling Ring.
The French magazine Premiere has released a couple of teaser photos in addition to Entertainment Weekly's movie stills.
The film, set to premiere at the Cannes Film Festival in May 2013, is based on a true story of affluent teenagers who —  rather than getting an after school job — scheme to break into celebrity homes compiling $3 million in goods, according to IndieWire.com.
Israel Broussard, Katie Chang, Claire Pfister, Georgia Rock and Carlos Miranda round out the cast. It's been suggested Kirsten Dunst, Gavin Rossdale and Paris Hilton (one of the victims of the group) will make cameos but it's not confirmed.
What do you think of Wats0n's somber look? 
Read More
Filed Under: