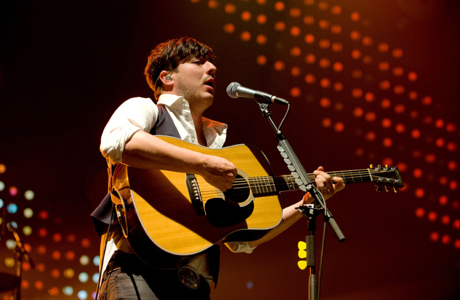 The Grammy nominations came out last night, and once again, our British brothers and sisters are in the mix for top awards. Clearly, Adele's 2012 coronation as the English Queen of the Grammys was a one-off; she astonishingly took home all six of the trophies she was contesting. Folk-rock strummers Mumford and Sons — whose album, Babel, was a Billboard No. 1 earlier year — matched Adele's six nomination haul last night, scoring a nod for Album of the Year. But the Grammys are spreading the wealth this time: Jay-Z, Frank Ocean, fun., Kanye West, and The Black Keys all also have six nominations apiece.
Meanwhile, the biggest British sensation of the year, One Direction, was completely shut out. Many Grammy watchers had them pegged for at least a Best New Artist nod. (Teen pop as a whole suffered last night: even Carly Rae Jespen's ubiquitous "Call Me Maybe" was relegated to Song of the Year instead of higher-profile Record of the Year.)
Ed Sheeran, the English ginger-with-a-guitar who received exposure at the Summer Olympics, is an unexpected contender for Song of the Year for "The A Team."
Florence and the Machine fans can rejoice, mildly. Ms. Welch and crew were nominated for Best Pop Vocal Album for Ceremonials, and "Shake It Out" is up for Best Pop Duo/Group Performance. Coldplay's Mylo Xyloto is nominated for Best Rock Album, where it faces Muse's The 2nd Law. Mumford's "I Will Wait" and Muse's "Madness" vie for Best Rock Song, while "I Will Wait" and Coldplay's "Charlie Brown" have been shortlisted for Best Rock Performance.
And Adele, now enjoying life as a mother, isn't done with the Grammys yet. She's up for Best Pop Solo Performance for her live version of "Set Fire to the Rain."
For the full list of nominees, go to Grammy.com.
So, will Mumford & Sons dominate the Grammys this year? Tell us below:
Read More
Filed Under: