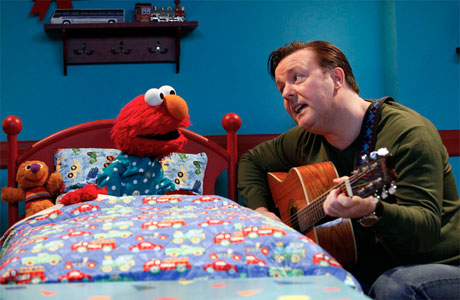 So the Hollywood Reporter claims that Ricky Gervais, the award-winning British comedian (it's important to explain that, in case you get confused with any of the other Ricky Gervaises doing the rounds, some of whom do not have awards from the early 2000s to refer to at the opening of a camera lens), is in talks with the producers of The Muppets to star in the sequel. And why not?
We already know he excels at so many things, taking part in a heart-warming (but also slightly vinegary) tale involving Kermit and the gang should be a breeze. He can sing, he can act bemused when a strange thing happens, he can say most of an outrageous thing and then sort of tail… off… without… finishing… so….
And let's face it, his laugh should really have been a creation of the Children's Television Workshop.  This will definitely be a very good idea. Ty Burrell is also said to be on board, so the opportunities to create many hilarious scenarios will be practically endless. They can do a thing where one of them is embarrassing and the other has to react. OR a thing where a social norm has been slightly broached by accident and they have to try and style it out, creating a situation where they have to do something cringeworthy while other people (or muppets) look on bemused, or risk losing face. The possibilities are endless.
Not that the producers, or Ricky himself, needs me to pitch ideas at them. They'll be just fine. The movie is set in Europe, and this time the Muppets will find themselves in trouble with the law, having to deal with Interpol (which is where Ty comes in), and a beautiful Russian lady with a mysterious past.
See? They got ideas!
And in case you don't believe Ricky has the natural on-screen warmth to be the sympathetic human man in a Muppet movie (when he definitely does, and he's won awards… so…), here's a taster of him interacting with an actual muppet, namely Elmo:
I know, he's like a British, male, bearded Amy Adams, isn't he?
Read More
Filed Under: