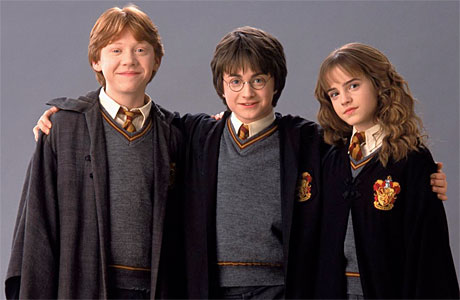 It's important, for the sake of all the Harry Potter fans out there that are still bereft and inconsolable since the franchise came to an end last year, to state that this is a very vague story indeed. There's only one confirmed name in it, the quote comes from an unnamed source, and it's about something that happens on a theme park ride, on which even the smoke and the mirrors are made out of smoke and mirrors.
However, today a news report has emerged which suggests that key members of the Harry Potter cast have come together to make some new Harry Potter-related video content, for the Wizarding World of Harry Potter bit of Universal Studios in Florida, and for two new Hogwarts-related theme park attractions, which are still under construction in California and Japan.
The filming is reported to have taken place at Leavesden, where the films were, y'know, filmed, and it will definitely (probably definitely) feature Helena Bonham Carter, reprising her role as Bellatrix Lestrange. But she is not alone, as the Sun's unnamed source is quick to point out:
They said: "The cast have really enjoyed getting back together — they are so tight-knit.
"The shooting schedule is nowhere near as long as the films, so though filming has been intense, the stars have enjoyed being able to pop in and out."
Not literally, magic-nerds, they're still only actors.
Read More
Filed Under: