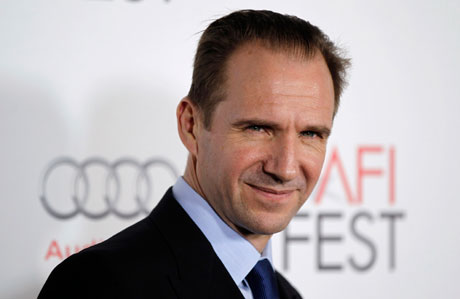 Ralph Fiennes turns 50 today. Happy Birthday!
These days Fiennes is known to children, and adults, worldwide as "the name we do not speak" (Lord Valdemort) in the Harry Potter franchise.
Well, not today … his name should be said loud and proud being his day and all.
While he had a successful stage career he was close to 30 before appearing in his first film. Earlier this year the actor told Details magazine, "Film was something that happened if you were lucky." He didn't necessarily go looking for it but it did happen. And, we're happy for that.
Fiennes achieved critical acclaim for his performance in Steven Spielberg's Schindler's List (1993). He admits to feeling somewhat "disoriented" with the attention he received following the release of the film. He handled it by following his gut which landed him in a range of roles including but not limited to Quiz Show (1994); The English Patient (1996); The Avengers (1998); Maid in Manhattan (2002); Red Dragon (2002); In Bruges (2008); The Duchess (2008) and The Hurt Locker (2008).
Most recently, Fiennes appeared in the blockbuster 007 film Skyfall opposite Daniel Craig playing Gareth Mallory. You can look forward to seeing him in the Invisible Woman (2013) portraying the famous English writer Charles Dickens.
Happy Birthday Ralphy boy — enjoy your day!
Read More
Filed Under: