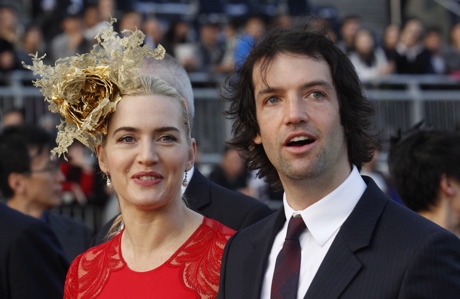 Kate Winslet married Richard Branson's nephew, Ned Rocknroll (yes, that's his real name, more on that later) in a hush-hush wedding earlier this month.
"Talk about a Titanic secret," wrote People magazine.
The British actress's representative confirmed to People that Winslet married Rocknroll in New York "earlier this month in a private ceremony attended by her two children and a very few friends and family. The couple had been engaged since the summer."
The actual event was apparently kept under wraps so well that the bride's own parents were said to have been unaware of it.
But her Titanic co-star, Leonardo diCaprio, was reportedly there to give the Oscar-winning actress away, according to some British media reports.
This is Winslet's third marriage (she was previously married to directors Sam Mendes and Jim Threapleton) and Rocknroll's second.
As you probably guessed, Rocknroll is not the family name that the groom was born with. The 34-year-old, who now works in his uncle's space tourism business, was born Abel Smith and legally changed his name in 2008.
"The whole thing was about having fun with your name," his ex-wife, British heiress Eliza Pearson, told the Daily Mail. "He thought we all took ourselves too seriously so it was about reacting against it. He looked into just being 'Ned,' with no surname at all but, apparently, that's illegal so we couldn't do it."
The thing is, we're not really sure how to capitalize or whether to punctuate the name. Most media outlets, including People and the Associated Press, print it as "Rocknroll" – which is how we've chosen to refer to Mr. Winslet, for the time being anyway. But there are others, like Reuters and the Telegraph, who capitalize the second R, making it "RocknRoll."  The Daily Mail has done it both ways. And the L.A. Times even adds an apostrophe, to make it "Rock'nroll."
Read More
Filed Under: