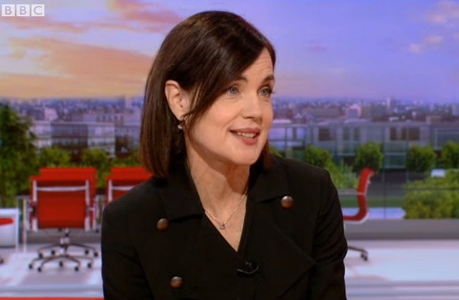 Talk about this being the season of joy. It has already been confirmed that Downton Abbey will have a fourth season but could there be a fifth in the offing for the Emmy-winning historical drama?
When Downton star Elizabeth McGovern recently visited BBC Breakfast, the British channel's morning news show, she was asked that exact question. She hemmed and hawed, mumbling it was a possibility but that she didn't really know.
"Everybody feels that we hope that we know when it's time to stop, that we don't wear out our welcome," she said.
Asked what surprises fans might expect in the show's fourth season, she played coy.
"There are always surprises," she said, revealing nothing beyond that.
The American-born McGovern, who is married to English director Simon Curtis (My Week with Marilyn) and lives in London, was on the morning show partly to promote her musical band, Sadie and the Hotheads. The group recently released its second album, How Not to Lose Things.
"I've never ever thought of myself as a singer," she said. "In fact, my original intent was to write songs and get somebody else to sing them. It was only when I failed to find anybody that wanted to that I ended up being the nominal singer of the band."
Earlier this month, it was announced that the Hotheads must postpone several previously announced February tour dates because of McGovern's shooting schedule for Downton's fourth season.
The series, which was nominated earlier this month for Golden Globe and Screen Actors Guild awards, finishes up its third season in the U.K. with a special two-hour episode on the ITV network on Christmas Day. American viewers get their first chance to view season three in less than three weeks when it begins airing Jan. 6 on PBS.
——————————-
Are you counting the days until Downton Abbey's return?
——————————-
Read More
Filed Under: