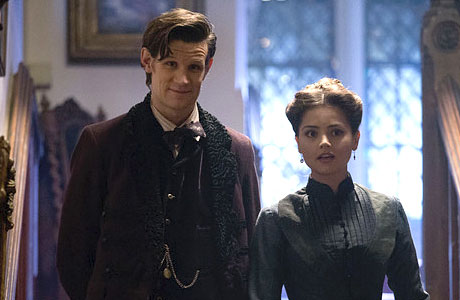 As we inch closer and closer towards Christmas Day, new material on the Doctor Who Christmas special continues to trickle in.
Here is the official description for The Snowmen:
Christmas Eve 1892 and the falling snow is the stuff of fairy-tales. When the fairy-tale becomes a nightmare and a chilling menace threatens Earth, an unorthodox young governess, Clara, calls on the Doctor for help. But the Doctor is in mourning, reclusive and determined not to engage in the problems of the universe. As old friends return, will the Doctor really abandon humankind or will he fight to save the world – and Christmas – from the icy clutches of this mysterious menace?
At which point Steven Moffat takes up the tale, to explain how the Doctor is feeling:
"The Doctor, when we meet him, isn't in a good place. A bit like when we first encountered William Hartnell as the Doctor in 1963 – or indeed Christopher Eccleston in 2005 – this a cold and withdrawn Time Lord, wanting no part of the world around him. It's going to take a lot of Christmas spirit to get him back out those TARDIS doors."
And perhaps a new hat, if the Doctor's new outfit is anything to go by. And how would you describe such an outfit anyway, eh Matt Smith?  "It is a bit like the Doctor meets the Artful Dodger."
So, Christmas spirit, a hat, and perhaps a new friend. Here's Jenna-Louise Coleman, Clara herself, on her character and why she's good for her new time-traveling buddy: "She isn't intimidated by the Doctor. Instead, she finds him amazing and ridiculous. But she is on her own mission and lives by her own means. She is very resourceful."
She also said this:
Also, a ton of new photos from the The Snowmen have also been released. Feast your eyes here.
• The most startling revelation of the past week has to be the fact that the Doctor has taken the time to spruce things up inside his spaceship-cum-time machine.
And by 'spruce things up' we mean there's going to be what the Radio Times are calling a "striking new control room for the TARDIS," some of which will look like this:

Here's what else is going on in time and space this week:
• While we're on the subject of redecorating, did you see the classic TARDIS wallpaper (not computer wallpaper, actual wallpaper) we wrote about last week?
• Or the feature from the Digital Fix on which five improvements the Doctor could make to the TARDIS, including a second door in case of fire?
• And did you see this lovely photo? Matt Smith, Steven Moffat, and series executive producer Caroline Skinner stopped by the BBC AMERICA offices to offer their thanks to all of the fans who made Whovian history, landing Doctor Who on the cover of TV Guide Magazine for the first time ever.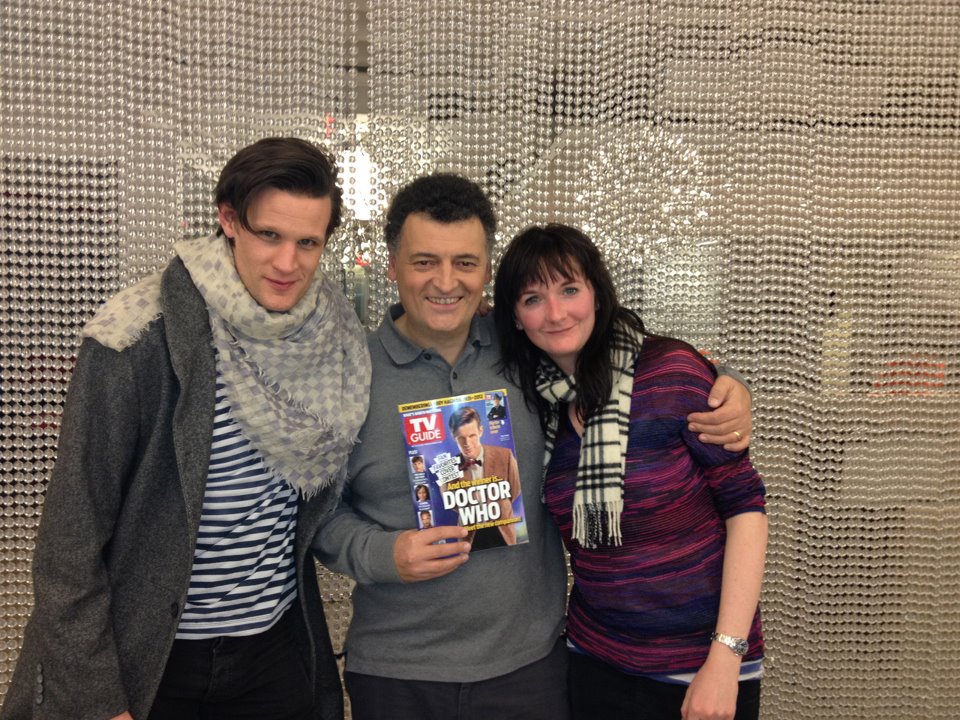 • And if you're roaming the streets of New York these holidays — or you're peering down from your perch somewhere in the cosmos — you might see this Who-themed seasonal message from the folks at BBC AMERICA: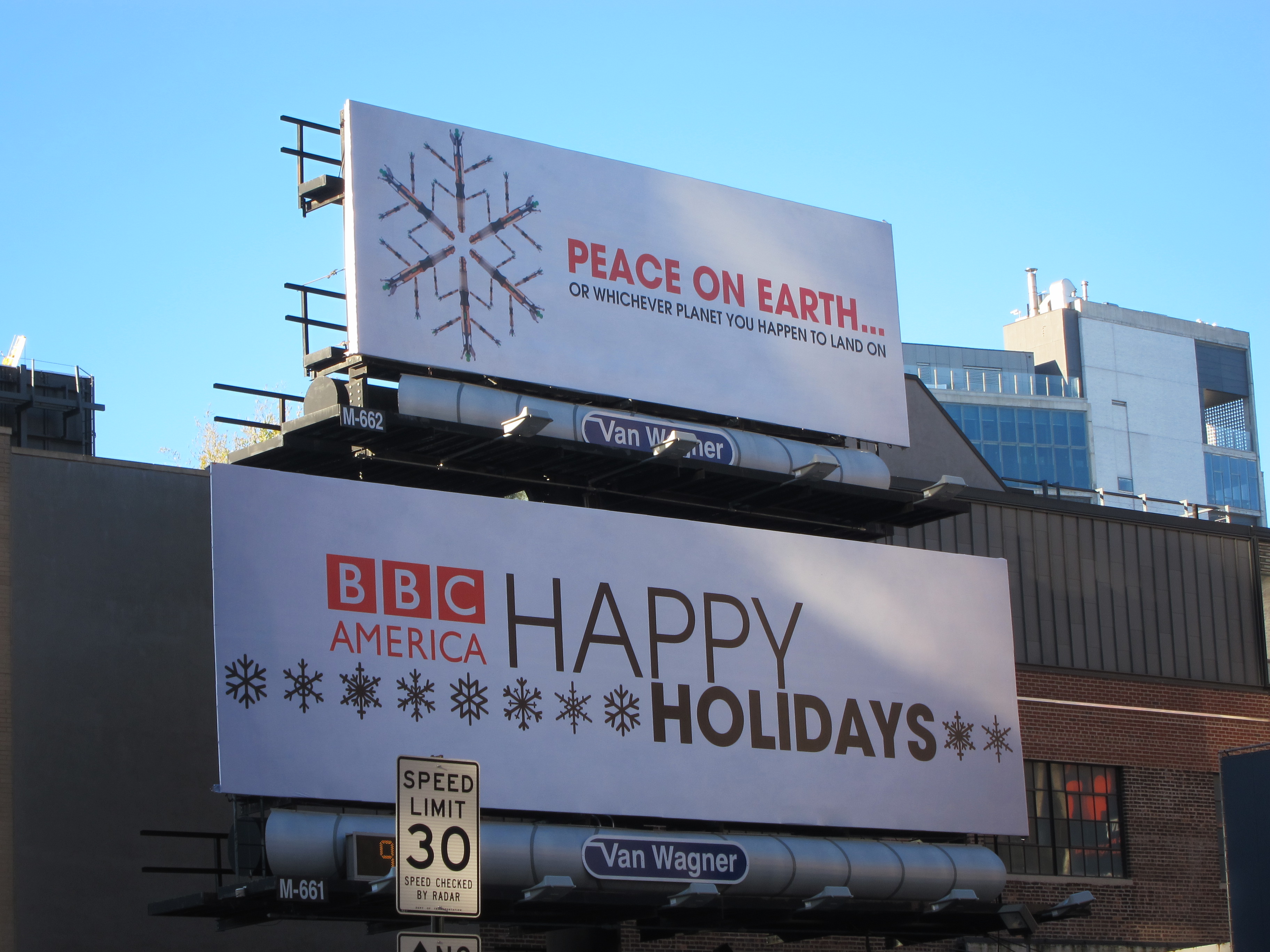 • Not sure what to put on your Holiday wish list this year? Why not refer to our Doctor Who holiday gift guide? Better yet, how about winning a few of these items in our #HappyWholidays Contest? Post your best Doctor Who-themed holiday decorations on Tumblr with the tag #HappyWholidays and you could snag a whole bunch of items from our holiday guide!
• This young lady has made this lively "Doctor Who for Dummies" guide for those who are curious about Doctor Who but have not yet been indoctrinated:
• The British writer Neil Bastian made this spirited comparison between the (newly-remastered print of) Lawrence of Arabia and Doctor Who, in which he points out that: "T.E. Lawrence (Peter O'Toole)… is an expert in the ways of the planet, having studied them as a young man. But despite his knowledge of its culture, conditions on Arabia are hostile and full of peril, and he recruits two young companions to help him.
"He inspires fierce loyalty in them. With an irreverent sense of humor, a brilliant, quicksilver mind, and being far more intelligent than his masters, Lawrence is something of a wild card whose genius brings him close to the edge of madness."
• Speaking of "fierce loyalty," did you see the news story from last week about the TV show British people are most proud of? Bet you can't guess what it i… oh you can? Fine.
So, after quite a big, exhausting braindump of stuff, does anyone fancy a nap? Yeah us too:
TTFN!
Read More
Filed Under: