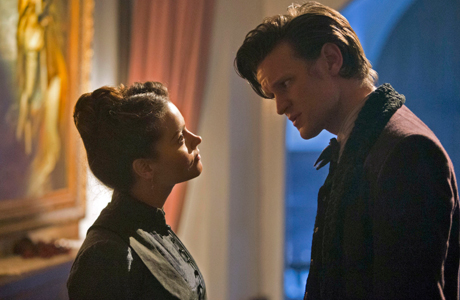 This is always the most exciting part of the buildup to a new episode of Doctor Who, when the little crumbs of information and the tiny sugary nuggets of preview clips start to fuse together, without ever quite becoming the full cake, but certainly with enough heat and aroma to raise anticipation of the glorious cakey feast that is on the way. (And a new opening sequence is coming.)
So here's the BBC America trail for The Snowmen, which contains a few new bits and focuses slightly less on the "man in a cloud" thing and slight more on the "this snowman wasn't here a second ago" thing. Brr!
Here's the other trailer, for balance. The "man who lives in a cloud" one:
Oh and just for a kick: here's a fan-made one… in Lego:
Here's what else is going on in time and space this week:
• The Snowmen isn't the only thing we have to look forward to. Steven Moffat has given an interview to SFX in which he teases some details about the second half of Season 7, which will be back in April 2013.
He said: "No two-parters, so they're all standalone stories. And they are all huge – there isn't the budget-saver episode. I don't know how we've done this. Possibly we'll find out at the end when we'll have no money left and will have to go to prison…"
• Remember those polls Anglophenia ran about the Best Modern Female Companions, the Scariest Moments and Monsters, the Greatest Guest Stars, and the Things You'll Only See on Doctor Who? Well, you'll learn the somewhat surprising results when BBC AMERICA premieres the Brit List: Doctor Who Ultimate List of Lists, co-hosted by Asha Leo and, holla, John Barrowman, seen in full effect in this trailer for the special (airing Friday, December 21 at 10/9c):
• And in this exclusive, behind-the-scenes interview from the Brit List set, Mr. Barrowman offers up his favorite Doctor Who monsters. Please enjoy his fabulous Davros impression:
• Doctor Who's composer Murray Gold gave a lovely interview about the things that have inspired his music:
http://www.youtube.com/watch?v=WbSjHEKGl38
• Matt Smith and Jenna-Louise Coleman sat down with TV Guide to discuss the worst jobs they ever had, what they do in their free time, their favorite childhood TV shows, their most awkward on-screen moments, and more!
• They also (on the same day) took part in a big BBC America Q&A (or Who&A) on Tumblr, the full transcript of which is right here.
• Have you taken our Doctor Who personality quiz yet? Find out whether you're a Donna or a Rose, a Martha or a River Song, a Rory or an Amy, right here.
• The Los Angeles Times interviewed John Barrowman about his new role as Malcolm Merlyn in the CW's Arrow. When asked if there are any plans to bring Captain Jack back for Doctor Who's 50th anniversary, Barrowman answered:
"If there is, I haven't been asked. I would love to if they ask me and I know that Andrew has already said to me if they want me in the 50th anniversary, he will give me the time off from "Arrow" to do it. But it's not up to me. The fans keep asking me online and on Twitter. If I had an answer I would tell you, but it's not up to me. Personally, as a fan of the show, I would be disappointed if Capt. Jack was not involved."
• We spend a very enjoyable day last week compiling a list of the
eleven best fan-made Doctor Who videos of the year
, including this remarkably detailed guide showing you how to pimp your toy sonic screwdriver until it acts like the real thing. Or at least, like the prop version in the TV show:
• When Reese Dixon couldn't find a tweed blazer that fit her son for his 11th Doctor Outfit, she decided to make her own. Parenting: You're doing it right. (via Buzzfeed)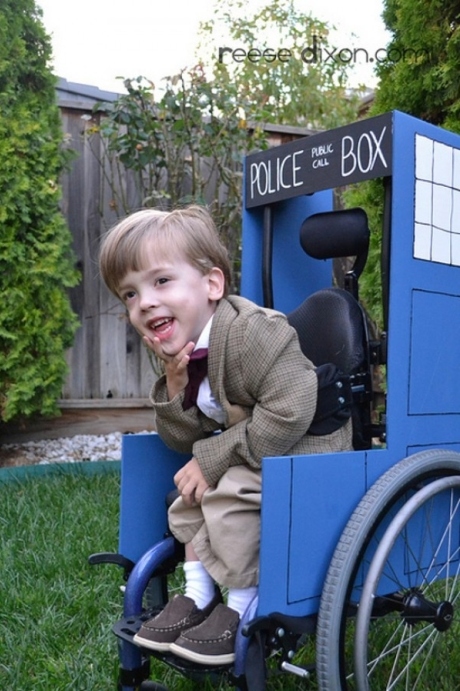 And let's finish with a picture that captures the full horror of this season, the season of terror unconfined, of war and awfulness to all men, and badwill to all mankind (via Twitter, uncredited):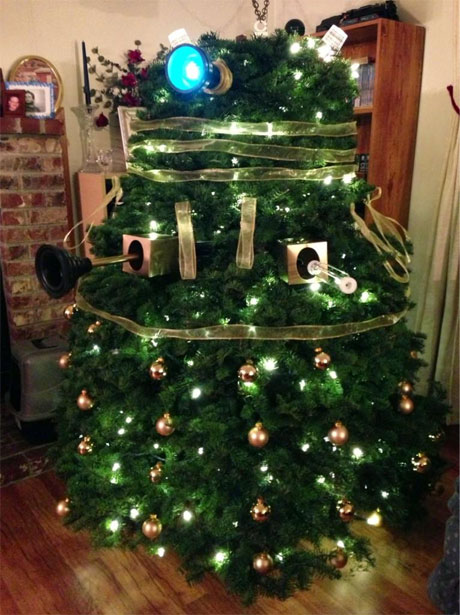 And he's not the only Dalek Christmas tree in existence, worryingly enough.
"WHAT. IS. THIS. 'PRESENTS'?" etc…
TTFN!
Read More
Filed Under: