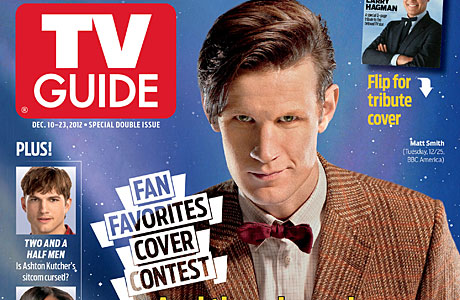 Once again, this friendly little news roundup has been entirely swamped by an astonishingly huge event. In this case, the arrival on the front cover of TV Guide Magazine, for the first time EVER, of our favorite Time Lord, as a result of a hotly-contested fan battle for the front page. And we won! We collectively beat The Walking Dead, The Vampire Diaries, and Pretty Little Liars. Mind you, the Doctor has tackled plenty of zombies, vampires and fibbers in his time…
Here's what else is going on in time and space this week:
• Jenna-Louise Coleman had her first U.S. interview with Entertainment Weekly, which appears in this week's issue, and talks about her appearance in "Asylum of the Daleks," the upcoming Christmas special, and taking over as the new companion. 
And here's Jenna talking to the BBC about her Doctor Who audition process and getting the role:
Speaking of The Snowmen, you've all seen this astonishing poster, haven't you?
And how about the BBC One trailer, the one with the Doctor/Clara clinch, leading to a quite remarkable expression on Matt Smith's face:
• Karen Gillan stopped by The Late Late Show with Craig Ferguson last week (on her 25th birthday, no less) to discuss moving to L.A., sing a little Gaelic ditty, and generally bask in their mutual Scottishness. Watch the full appearance here:
• Radio Times has a lovely interview with Colin Morgan – he of Merlin fame – about his future employment prospects now that show is coming to a close. You may remember he made appearance in the Tenth Doctor story Midnight, so it was no great leap to ask whether he'd be interested in a return trip.
• Have you started opening your Doctor Who Adventure Calendar on the official site yet? A new free thing every day from now until Christmas? No? Hurry up then!
Onto Tumblr:
It's finally December, which means the holiday season is upon us! Have a Dalek tree (lookingforautumn):
Just three Weeping Angels stopping by a Starbucks for some frappucinos. Not terrifying at all, nope. Not one bit. (elleandtheoubliette)
• SFX have devoted a special page to every scrap of news they can gather about the 50th anniversary in November next year. It's called the 50th Anniversary Accumulator.
• Let's go out with a big finish. A Big Finish Doctor Who audio adventure, to be precise, starring Paul McGann as the Eighth Doctor and Toby Jones as his foe. It's called Dark Eyes, and this is the trailer:
Amazing. TTFN!
Read More
Filed Under: