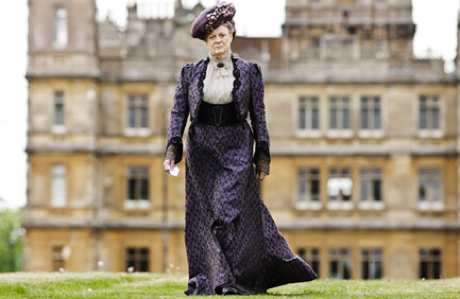 The nominations have just be announced for the Screen Actor's Guild awards, 2012, and it is fair to say that the Brits have done a very nice job. So much so that only two awards are unblessed by British influence, and Dame Maggie Smith may well end the night on the phone to a carpenter, to build her a bigger sideboard.
Let's go through the nominees, and point at the Brits in the list. The full list is here:
In the motion picture collection of awards, we've got Daniel Day-Lewis (nominated for Lincoln) battling it out with Bradley Cooper, Denzel Washington, John Hawke and Hugh Jackman for Outstanding Performance by a Male Actor in a Leading Role. Meanwhile Dame Helen Mirren (Hitchcock) and Naomi Watts (The Impossible) are up against Jessica Chastain, Marion Cotillard, and Jennifer Lawrence for the female equivalent.
Over on the supporting actor lists, Skyfall is represented by Javier Bardem (he only has to beat Alan Arkin, Robert De Niro, Philip Seymour Hoffman and Tommy Lee Jones, how hard can that be?) and Maggie Smith is up for her first award, for The Best Exotic Marigold Hotel, a movie which is also nominated for Outstanding Performance by a Cast in a Motion Picture, alongside Les Misérables (some good Brits in there), Lincoln (ditto), and Silver Linings Playbook (nope.).
Skyfall also gets a nod in the Outstanding Action Performance by a Stunt Team category, although its TV equivalent appears to have ignored any British shows, including Doctor Who, and (perhaps unkindest of all) the all-action Downton Abbey. It's an outrage!
In the TV section, Clive Owen is nominated for the TV Movie Male Actor gong, for his portrayal of Ernest Hemingway in HBO's Hemingway and Gellhorn. Charlotte Rampling takes up the British flag in the Female Actor section, after getting a nomination for her role in Restless.
Drama Series nominations are particularly Brit heavy, with Damian Lewis getting the Male Actor nod for his part in Homeland, and Michelle Dockery AND Dame Maggie Smith being recognised for Downton Abbey, in the Female Actor category,
Oh and the Ensemble award for TV drama contains nominations for Downton and Homeland (which we're counting as a Brit triumph, despite all appearances to the contrary), up against the American giants – Boardwalk Empire, Breaking Bad and Mad Men.
In fact it's only the comedy awards (and that one TV stunt award) that suffer from a lack of British influence, and even then only if you don't count  the British offshoot The Office being nominated for Ensemble Performance. Neither the Male Actor or Female Actor categories are blessed with a British nominee. It's all Tina Fey this and Jim Parsons that.
So basically, what we're saying is this. Would it not be cheaper and more convenient to hold the awards in London?
Read More
Filed Under: