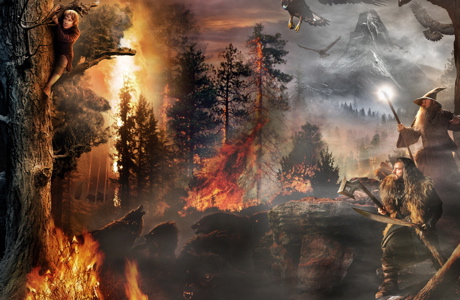 It is easy to mistake The Hobbit: An Unexpected Journey for a British movie. That's because English actors play so many of the major roles in the fantasy adventure film, which opens Friday (Dec. 14).
The Hobbit is the first of three movies in a series, yet another attempt at adapting J.R.R. Tolkien's books to the big screen. The last time he tried, director/co-screenwriter Peter Jackson scored an international blockbuster with The Lord of the Rings, his rousing trilogy of films that came out in 2001, '02 and '03. (While the Rings cycle may have hit theaters first, the events and story of The Hobbit serve as a sort of prequel, with some characters and locations overlapping.)
Now, we're well aware that The Hobbit was shot mostly in New Zealand and that Jackson is himself a proud Kiwi. But keep in mind that Hobbit's three lead roles are all played by British stars – that would be Martin Freeman, Ian McKellen and Richard Armitage – so there's a clear case to be made for the mother country's influence on the film.
http://www.youtube.com/watch?v=A_F30H0nsVk
Additionally, many key supporting roles are played by Brits, most notably Andy Serkis as the digitally-created goblin Gollum, the same role for  which he rocketed to fame in Rings. And don't forget that Tolkien (1892-1973) himself was an Englishman; he spent much of his career teaching English and literature at Oxford.
It's not as if the British actors in Hobbit try to suppress or mask their English accents. Playing Bilbo Baggins, a diminutive Hobbit who, as do all his species, possesses oversized, hairy feet that are rarely shod, Freeman sounds just as he does on TV in the British version of The Office or Sherlock or in such earlier films as Hot Fuzz and The Hitchhiker's Guide to the Galaxy. Ditto for Sir Ian (who reprises his Rings role as Gandalf, a Wizard, for which he received an Oscar nomination) and Armitage.
Armitage portrays Thorin, a noble Dwarf warrior who is leading a quest to reclaim a kingdom once ruled by his grandfather. While he's gruffly handsome in The Hobbit, he's so covered up by ratty long hair and a full beard that he's a long way from the dreamboat he was in his best known earlier roles, on TV as Lucas North in MI-5 and as brooding Guy of Gisbourne in Robin Hood.
Other British actors with highly visible roles in the movie include Ian Holm, who plays an older version of Bilbo in a prologue; horror movie and Star Wars veteran Christopher Lee, who again plays Saruman, a Wizard from Rings; and Scottish-born Ken Stott and Northern Ireland's James Nesbitt, who both appear as colorful dwarfs backing Thorin's cause.
Less visible in the film is Benedict Cumberbatch, who turns up only briefly – as loyal Anglophenia readers well know, he's busy, busy, busy – playing an exceedingly nasty creature called The Necromancer. While Cumberbatch's appearance in this first Hobbit is a blink-and-you-missed him affair, it's hinted that we haven't seen the last of the Necromancer. Take heart, Cumberbatch fans, there are still two more movies to go.
—————————-
Are you eager to see The Hobbit?
—————————-
Read More
Filed Under: