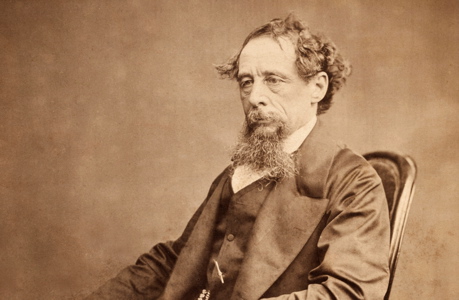 A Christmas Carol, wrote Paul Davis, author of The Lives & Times of Ebenezer Scrooge, "has been adapted, revised, condensed, retold, reoriginated and modernized more than any other work of English literature."
Charles Dickens' story has rarely waned in popularity since it first appeared in print in 1843. This year marks the 200th anniversary of the author's birth.
Many people credit Dickens with inventing – or at least reinventing – Christmas.
One historical view, buttressed by contemporary Victorian accounts, is that pre-industrial observances of Christmas, which were largely rural and which lasted over several days each year, had been derailed by the Industrial Revolution. As laborers flocked to cities and capitalism developed its relentless need for workers, there was less time for lengthy, agrarian-based celebrations.
In A Christmas Carol and his other Christmas-related writing, Dickens offered a model for the holiday in an increasingly urban, middle class environment.
At the same time, Dickens' story arose out of his outrage at working conditions of the time, especially abusive child labor practices. A Christmas Carol, while it's ostensibly about the meaning of a religious holiday, is as much, or more, about a miser's secular redemption and about social harmony achieved through class understanding.
"The Carol is not only about Scrooge's conversion," writes Davis. "It is itself a conversion experience."
And every generation, says Davis, experiences the book's meaning in a different way. For example, in the decade before World War I, it was primarily viewed as a children's story.
During the 1930's, it once again took on its meaning as a tale of social justice, when it became a recipe for economic recovery. FDR read it every year to his family, and, beginning in 1934, Lionel Barrymore played Scrooge in an annual holiday radio play.
Davis goes as far as to say that "A Christmas Carol was one of the guiding texts of the New Deal."
Later, in the 1960's, Scrooge's inner psychology was all the rage, he says.
"The sixties Scrooge, a Freudian figure tormented by his past, subconsciously conjures up Marley as a way of calling for help," Davis writes.
So Dickens not only managed to create Christmas traditions, but he constructed a character and story universal enough to change and adapt over time.
There are historians who also suggest that the author laid the groundwork for the modern commercialization of Christmas.
As a result of the phenomenal success of A Christmas Carol, Dickens wrote other Christmas stories and edited magazines that each year published popular – and profitable – Christmas-themed issues.
Special Christmas editions? Sound familiar?
As you watch the Doctor Who Christmas special, perhaps you might want to offer a word of thanks to a certain Victorian novelist.
Read More
Filed Under: