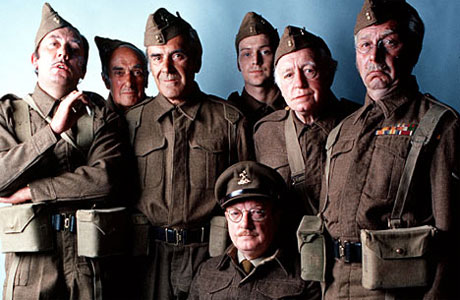 Last week, Clive Dunn, one of the last surviving members of cast in the beloved British sitcom Dad's Army, passed away. His death was all the more noteworthy because he played a character, Corporal Jones, who was far older than he was – the only member of the cast to have done so – and so a lot of people had assumed he had died years before.
And hard on the heels of this sad news, comes a story claiming that there are plans afoot to remake the series, only this time they'll be casting a female lead, to take on the role of the officious Captain Mainwaring, as played brilliantly by Arthur Lowe.
The story comes from Jimmy Perry, the show's co-creator, who told a meeting of the Dad's Army Appreciation Society (see, I told you it was a beloved show) that there was a script in development, although neither he nor his partner – the late David Croft – would be working on it.
Naturally, this has caused a certain amount of consternation. Corinne Fulford, manager of the Dad's Army Museum in Thetford, Norfolk (a museum, no less! How much more beloved can you get?), told BangShowbiz: "We're talking about an iconic series. I can't even imagine how Captain Mainwaring could be played by a woman."
Which does raise the question: why not? Captain Mainwaring is a middle class social climber and a buffoon. He believes he has earned the right to lead his local branch of the Home Guard because of his standing as the local bank manager. His subordinate is the urbane Sergeant Wilson (John Le Mesurier), a man of officer class, who, according to the social climate of the day, should really be in charge.
So you've got one character who chippily believes their existance at the top of the heap is down to merit alone, and occasionally hides his frustrated vanity under a hairpiece (oh hi Mr Trump, didn't see you there), and one who knows he's got the breeding but is far too much of a gentleman to argue.
So, far from being an exclusively male setup, this scenario has echoes of not only Absolutely Fabulous, but Keeping Up Appearances and even Calendar Girls. Of course, those comedies take place in a different era, and putting a female character in as the captain of the Home Guard in 1943 might be harder to justify. There were women in the Home Guard, of course, but very few in positions of high authority.
There again, maybe the battle of the sexes might be the thing to more firmly underline the tensions between Captain Mainwaring and everyone else in the show. Maybe it's clearer that a female buffoon (played by, say, Patricia Routledge or Jennifer Saunders) with an overdeveloped sense of entitlement, getting everything wrong despite being morally in the right, would make an updated version of the show work.
There again again, if you're going to be that radical, why not just write a new show?
Read More
Filed Under: