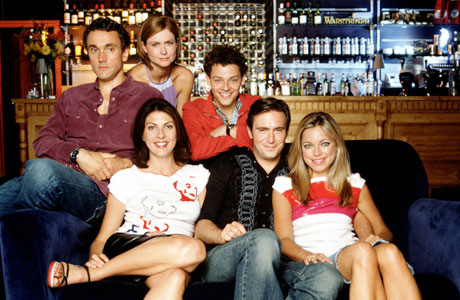 Yes, the holidays are about family and togetherness. But, it's okay to take a cheeky break and sneak away and watch some guilty pleasure TV. Well, in this case guilt-free.
Imagine dinner is over, you're too stuffed to even consider cleaning up and the men are off watching football (still) … psst, let the dishes sit for a while.
It's the worst when someone talks over your favorite show. Guys, you're off the hook and are invited to sit this one out. This is a Girl's Guide to Great TV in Great Britain. Hence, making it guilt-free — there's no one to interrupt your programming! Sorry lads, surely you're gutted.
Ladies, on the other hand, BBC America has taken five of your fave U.S. shows and would like to introduce you to their UK cousins (available online at YouTube or iTunes):

U.S. Counterpart: If you you can't get enough of MTV's The Jersey Shore then turn to The Only Way is Essex.
What's the same: When you didn't think it could get any worse – and when I say "worse" I actually mean better – it does! Essex has the mentality of the Jersey Shore set in the posh life of The Hills following eight twenty-somethings living the life in the East of England. They do indeed tan and go to the gym but would never dirty their hands with laundry.                                                                                                    
Not so much: TOWIE refreshingly points out some scenarios have been pre-arranged.
 
U.S. Counterpart: Bravo's Real Housewives is annoyingly addictive – Eastenders has the same draw.
What's the same: You really cannot flip channels without coming across one of the RH series. Eastenders has been around since 1985 growing a huge fan base with viewers trying to actually find the fictional town of Albert Square. The show revolves around family, friends, love, heart ache, drama. It's basically Housewives with a script … hmm, is that redundant?  
Not so much: Eastenders isn't reality, but neither is Housewives technically.               

U.S. Counterpart: Is The View your CNN? The Loose Women will bring you up to speed on the day's hot topics. 
What's the same: I just picture UK versions of Barbara Walters and Whoopi Goldberg all tarted up. The discussion is definitely risqué but not quite that scandalous.  The set up is a circle of ladies sitting around talking about the day's events. The women do a nice job of taking hard news and breaking it down into a digestible amount of information in a live format.                                                                                                  
Not so much: Loose Women doesn't have a bleep machine in case someone says a curse word.  
 
U.S. Counterpart: Do you need a Friends fix?  The UK's Coupling will scratch that itch!
What's the same: If you're like me and have already seen every episode of Friends – twice – then we suggest going vintage BBC and checking out Coupling where it all started. The group of friends – a cute couple, a playboy, a quirky single girl – primarily hangs out at their local pub, get into silly conundrums, hide crushes, let secrets slip, argue and make up. Sound familiar?                                                                                                                                                 
Not so much: They drink beer instead of coffee; other than that, it's terrifically similar!
No Kitchen Required


U.S. Counterpart: Top Chef meets Survivor in BBC America's original concept show No Kitchen Required.
What's the same: Alright, alright. It's about time to let the boys back into the living room. No Kitchens Required is a perfect breed of television that speaks to both men and women.  NKR has the exhilarating pace of Amazing Race; the skilled mastery of Top Chef; and the wild of Survivor.                                                     
Not so much: Duh, there's no kitchen!
What's your guilty pleasure TV show?
Read More