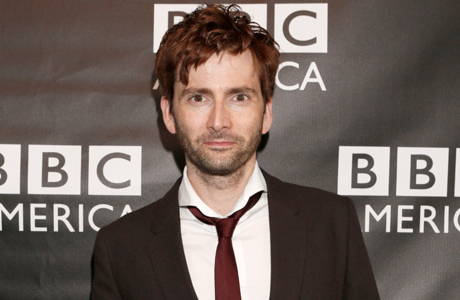 It would be lovely, given recent news stories about Star Wars, and the likelihood of there being further sequels down the line, to be able to report that there has been a definite casting decision in favor of certain former Doctor Who actors. Or indeed, anyone we particularly like from the Whovian end of things.
Sadly, no such news is available as yet, but it certainly won't hurt, say, David Tennant's case that he has made an appearance in an episode of The Clone Wars as a prissy droid with a lightsaber fetish:
And his appointment was not as the result of a cold audition. David Feloni, who runs the show, is a firm Whovian, and brought him in. As he explained to IGN, he was only too keen to put  the two realities together: "As a fan that has the privilege of playing in the Star Wars galaxy, I am always on the lookout for others who appreciate, and would enjoy, an opportunity to go on an adventure in George [Lucas]'s galaxy far, far away.
"When I heard the Doctor himself, David Tennant, was a fan of Star Wars I knew I had to find a way to get in contact with him to see if he would perform on The Clone Wars. The result was Huyang, an ancient droid in the service of the Jedi Order, whose sole task in life has been overseeing the construction of lightsabers. I thought David was perfect for the part and he did not disappoint. He delivered a performance which impressed even the Master himself, George Lucas."
What? I'm not giggling that they call George Lucas "the Master." Why would I? I was giggling at, er, something else.
Read More
Filed Under: