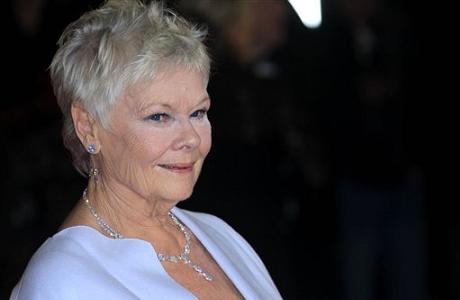 In the new Bond film, Skyfall, out tomorrow (Friday, November 9) Dame Judi Dench found her role as M had been significantly expanded.  Her character is far more central to the plot and she is present in many more scenes.
"I relished it. Lots more filming to do, lots more involvement, and lots of new things to learn," she says.
Skyfall marks the seventh time the actress has appeared as M in the Bond films – and she considers herself fortunate. "I feel really lucky. I thought, I had no idea that the part might go on. It had never occurred to me that she might go on. You know, I thought she'd be fired in Goldeneye, but now suddenly seven films later, I'm thrilled to have done them."
One mini-controversy that's emerged with Skyfall is product placement – more specifically that Bond, best known for his martini-sipping image is, to the dismay of some fans, seen drinking beer because Heineken paid for its lager to be "placed" in the film.
But product placement doesn't perturb Dame Judi.
"Well, does that not happen all the time?," she asks. " I see it all the time at Wimbledon for instance. Everybody's either holding a glass of something or wearing something. You see it going along the back of football things. I think that's part of our life now. I think it's always been part of the Bond films."
007 fans who've already seen Skyfall have reported they've experienced M's journey in the film as quite emotional. To explain why would be to give away some key plot points – so I'll refrain.
Which character are you looking forward to seeing in Skyfall?
Read More
Filed Under: