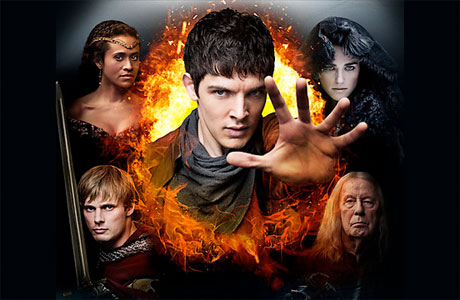 It has long been understood, certainly by the show's creators Johnny Capps and Julian Murphy, that the sword and sorcery epic Merlin would be a five-year, five-season TV project. However, no one could have predicted what a massive hit the show would become, and what a rabid fanbase it would create, and so the unspoken hope had arisen, from those rabid fans at least, that this would lead to a possible stay of execution now that Season 5 is upon us.
Sadly, this now won't be happening, as the BBC has confirmed that there will be no more Merlins after this lot.
But far from being outraged or sad about it, everyone involved in the creation of the show seems to have accepted that this is a good thing, that they've made a show that cannot fade into nonsense, and that they're going out on a high.
Here's an interview Colin Morgan (who plays Merlin) gave to SFX, on this very topic. It does contain clips, but nothing too spoilery:
http://www.youtube.com/watch?feature=player_embedded&v=b9PbMkUrljI
Anthony Head, who played King Uther Pendragon, had this to add: "Hats off to Julian and Johnny, the producers, for sticking to their guns with the five season story arc of Merlin.  It would have been too easy to give in to demand and stretch the show on beyond their original  plan because of its incredible success. Instead, Merlin finishes at the height of its success and will, therefore, live on in people's memory.  That's certainly what happened with Buffy – and it really doesn't happen that often."
There are, however, plans to make a Merlin movie or two, as Julian Capps revealed to Digital Spy earlier this year: "We're hopefully going to do a trilogy – three movies. We will focus on them when we finish season five.
"One idea we've been playing around with is to reboot the whole series. We would go back in time and start the story again and show different parts that you didn't see in the series. The other idea is to do a continuation, but we haven't decided yet."
Merlin Season 5 airs on SyFy early in the new year.
Read More
Filed Under: