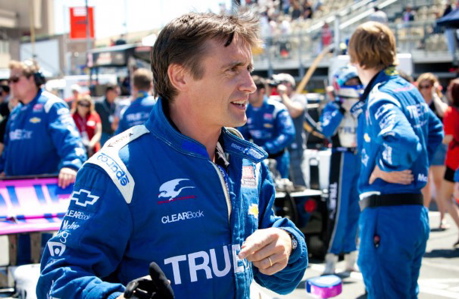 "Is there anything here that doesn't hurt or sound unpleasant?" Richard Hammond asks plaintively about the job he undertakes on next week's Crash Course. You'd think that being part of a race car pit stop crew would come more naturally to the host of a TV car show than, say, being a rodeo clown, but you would be wrong.

In addition to working in the INDYCAR pit crew, The Hamster also got to take a spin with legendary racecar driver Mario Andretti. That's in episode four of Richard Hammond's Crash Course, which airs Monday, November 12, 10p/9c.
• Airing immediately before next week's Crash Course episode, Richard hosts a special about the cars that are part of the world of Britain's most famous secret agent, James Bond. The show, Top Gear: 50 Years of Bond Cars, airs at 9p/8c on Monday, right after the U.S. opening weekend of the newest Bond movie, Skyfall.
Bond's cars have "become characters in their own right," Richard told the Scotland Daily Record. He said that was one of the differences between Ian Fleming's books and the movies: ""The car was just the car. Fleming liked his gadgets, and the Bentleys were perfect for the cover Bond needed as a British gentleman."
Top Gear executive producer Andy Wilman said one of the ideas of the show was to "give Bond a 50th birthday present by building a Lotus Esprit and seeing if it worked like a submarine in the movie," referring to the car that Roger Moore drove in The Spy Who Loved Me. "They never made one for the original film and a model was used instead, but we thought, 'Let's see if we can make one that can be a car AND a submarine'. Naturally our intention was not to kill Rich!
Wilman told the Express: "We used a reservoir in Derbyshire to test it and there's a great shot of the water coming over the windscreen. Although we proved it can work, you wouldn't go to France in it!"
"The Lotus went underwater and worked. Can you believe that?" Richard says, happily. "No one was more staggered than me. It was scary in that car. I've been in a car three or four times when it filled with water and it's not a comfortable feeling. So thank goodness it worked."
• And speaking of James Bond and Richard Hammond, two people who naturally fit together in the same sentence, we thought we might refer you to the following Top Gear video from a few years back in which Richard presents a James Bond car on a budget:
• Richard may have been scared underwater in a James Bond car, but he was also terrified on dry land during the filming of last week's Crash Course when he underwent training to be a rodeo clown. Even with vast amounts of protective gear, the Hamster said he still felt "very small and very English."
Richard's rodeo trainer Clint Hopping said it was fun to work with the Hamster. "Richard had no knowledge of rodeo and it was great to see him not pretend like he did. It just opened my eyes to know that I needed to put everything in layman's terms because I wanted him to understand what he's getting himself into," Hopping told BBC America. "When he first saw the bull and it came at him a little bit, his eyes got big as basketballs. It was scary for him for a moment, but the relief on his face was just hilarious."
You can read all about the challenges Richard faced in Snook, Texas and on the island of Maui in MacKenzie Wilson's behind-the-scenes episode recap.
Richard also went to Hawaii for last week's show to learn all about paddle boarding from one of the inventor's of "modern paddle boating as we know it," Dave Kalama, who told BBC America that the Top Gear host showed "a lot of perseverance and will."
"What he tried to accomplish is something where you should have weeks and months of training for," says Kalama. "It's always impressive to me to see people that understand that they're not very good at a task, but just figure out a way to get it done. I like people who are tough-willed and don't give up easily, and Richard did it with a smile and a sense of humor."
Read More
Filed Under: