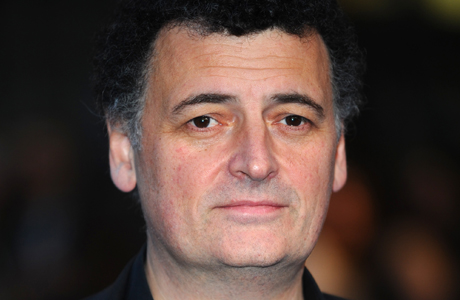 I know, I know, it's not really that big a surprise that people consider Steven Moffat to be good at writing, although bearing in mind this award came from the Writer's Guild, you can at least take heart that the qualities we non-experts enjoy in his work on Doctor Who and Sherlock are also valued by his peers.
So, the Guild had their awards last night, and Steven won a special award for "outstanding writing" (their words, hence the speech marks. Otherwise it just looks like we're sucking up).
While giving his acceptance speech, Steven had words of encouragement for other writers, as well as affection for his two biggest hit shows. He suggested writers shoud "write what you love. I've never loved anything as much as Doctor Who and Sherlock."
Speaking of which, the latter was beaten in the short-form drama category by ITV's Appropriate Adult, the Fred West drama starring Dominic West. But there was an award for The Sarah Jane Adventures – best children's TV script for Phil Lord's The Curse of Clyde Langer –  so that makes up for things a little.
BBC America's Being Human did well too, taking home the trophy for TV drama series, while the BBC4 Monty Python dramatisation Life Of Python won best TV comedy.
Hats off to everyone concerned.
Read More
Filed Under: