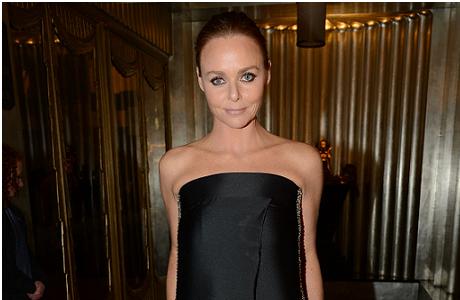 Anglophenia listed Stella McCartney in our Brit List: Summer of London – Fashion Forward post as one of the UK's must-watch fashion designers. We weren't wrong. McCartney has won the Designer of the Year Award at the British Fashion Awards 2013 on Tuesday evening, November 27 at The Savoy Hotel in London.
McCartney has an effortless appeal that attracts the masses. She's known for her use of clean, strong lines. As one of Britain's most famous fashion designers, she had the honor of designing Team GB's uniforms for the 2012 Olympic Games held in London.
"Something that I've learnt is that great people make Great Britain . . . this is one of the most incredible years of my life, and I thank everyone who fell in love with the 2012 Olympics," she told the crowd.
When asked about her daily inspiration by Vogue magazine she simply said, "Women are always my inspiration…" She went on to elaborate, "Most women have a very controlled, restrained part of their personality but we also want to have fun, feel youthful and sensual – it's the balance between the two."
Celebrities seen wearing her clothes include but are not limited to Kate Winslet, Madonna and Gwyneth Paltrow.
She speaks to the everyday woman as well; her clothes can be purchased in the U.S. at Bloomingdale's, Nordstrom and Saks Fifth Avenue in the U.S. 
Do you have any clothes by Stella McCartney?
Read More
Filed Under: