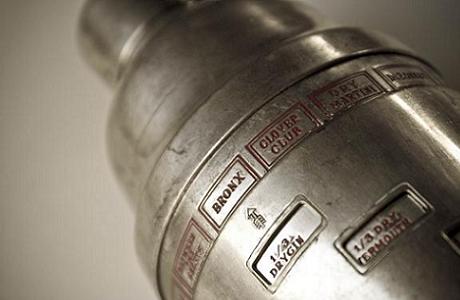 If real spies spent as much time boozing as James Bond, cat-stroking villains would have taken over the world by now. But 007 managed just fine and, according to Ian Fleming's books, he knocked back everything from scotch and soda to gin and tonic. Here's our guide to 007's beloved inebriants and the stateside bars that mix them best.
1. Vodka Martinis
Bond watchers estimate that – so far – our man has sipped over 20 of these classic cocktails on screen, each one shaken not stirred, naturally. In the Bond books, however, the secret agent isn't nearly as fussy about the ingredients and orders his martinis with gin almost as frequently as he does vodka.
Where to drink one: Head to D.C.'s The Passenger for what's reckoned to be the best vodka martini in America.
2. Vesper Martinis
Arguably, this is the most authentic Bond-style Martini because it was the version mentioned first, and last, as it happens, in Fleming's debut 007 novel, Casino Royale. Traditionally, it's three parts gin, one part vodka and half a measure of Kina Lillet (a fortified wine similar to vermouth), plus a twist of lemon peel.
Where to drink one: Bemelmans Bar in the Carlyle Hotel on New York's Upper East Side. It's off-menu so you'll have to request it from the bartender.
3. Old-Fashioned
It's thought that this bourbon and bitters-based beverage, which started life in 1880s Kentucky, was America's first-ever cocktail. Bond was a fan ordering for over three books — almost always doubles.
Where to drink one: The Violet Hour in Chicago or Please Don't Tell in NYC's East Village.
4. Negroni
Bond sups this aperitif (among other things) in the little known short story Risico. To make your own, mix one part gin, one part vermouth rosso and one part bitters — traditionally Campari.
Where to drink one: Beretta in San Francisco's Mission district or Bourbon & Branch in the city's Tenderloin district.
5. Scotch (or any whiskey) and Soda
If you've only watched the movies, you probably have no idea that this is JB's all-time favorite mixed drink. In the books he necks a whopping 21 of them – mostly Scotch but other whiskeys too. Occasionally, he takes it straight up.
Where to drink one: Seven Grand in Downtown LA. They also make a mean Old-Fashioned. Eastcoasters, meanwhile, should head to Brooklyn's Char No. 4.
6. Gin, or vodka, and tonic:
Both versions make an appearance on the page. Fleming fed his spy four G&Ts in the 1958 novel, Dr. No, but switched Bond over to vodka in 1963 when he published On Her Majesty's Secret Service.
Where to drink one: Alexandria, Virginia, is home to PX, a spectacular boozer where signature drinks incorporate fresh herbs, roots and berries. Their homemade tonic is infused with lemongrass and lavender.
7. Americano
First off, don't confuse this Italian-born cocktail (drunk mainly by Americans) with the coffee. It's in Casino Royale that 007 orders his first Campari, vermouth and soda. In a later book, A View to Kill, we discover that he thinks this is a more suitable "outside" drink than his usual, harder concoctions.
Where to drink one: Clyde Common. This "European style tavern" in Portland is reported to mix a fine Americano.
8. Mojito
This is one cocktail (traditionally rum, sugar, lime juice, mint and soda water) Bond enjoys in the movies but not in the books. In 2002's Die Another Day, the handsome spy is supping a mojito when he meets Jinx.
Where to drink one: You'll need to head south for a truly great interpretation of this classic Cuban cocktail. Try Mojitos Rum Bar & Grill in New Orleans or Miami's Versailles.
What's your choice of drink?
Read More
Filed Under: