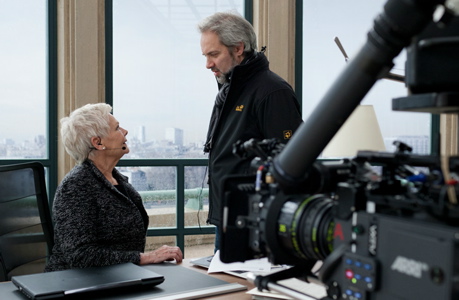 Sam Mendes says it's thanks to a liquored up Daniel Craig that he had the chance to direct Skyfall, the new James Bond film that opens today (November 9).
In a fascinating radio interview with NPR's Morning Edition program that aired earlier today, the British director of American Beauty (1999) and Revolutionary Road (2008) recalled running into Craig at a party a few years ago. The two, who had worked together in 2002 when Mendes directed Craig in Road to Perdition, began chatting.
"We both had a couple of drinks and I asked him when he was doing the new Bond movie. And he said, 'I don't know.' And I said, 'And who's going to direct it?' And he said, 'I don't know. Why don't you do it?'" Mendes said. "I hadn't any particular agenda in asking him. I was just making small talk, literally. But it never occurred to me until he said it. I think Daniel sobered up the next day, realized that he'd offered me the job, and it wasn't really his position to do that. So he called the producers, and two weeks later I met them."
At the meeting, Mendes said he was immediately impressed with how open to collaboration the producers were.
"It was very clear from the beginning what they wanted was not a Bond movie, but my Bond movie," he said. "And so I felt very comfortable from that moment on, really."
The end result is Skyfall, the 23rd Bond film – the series celebrated its 50th anniversary this year – which has been earning rave reviews and has already grossed $321 million since opening overseas late last month.
In the same NPR interview, Mendes, now 47, talks about the importance in his youth of watching Bond movies every Christmas on the BBC with his family in England. The first he remembers seeing was Live and Let Die (1973), with Roger Moore, when he was 12. He also mentions that as a boy he owned a Dinky Toys model car version of Agent 007's Aston Martin DB5, which led him to include the car in Skyfall.
To listen to the full interview or read a longer version, click here.
Read More
Filed Under: