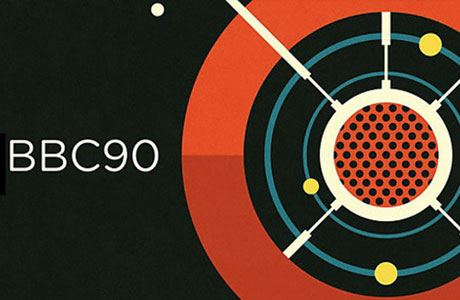 Today is the anniversary of the very first broadcast by the BBC, back in 1922. It was just a radio signal at the time, made by what was then called the British Broadcasting Company (it was later incorporated). Since then, no end of astonishing things have happened. I could list them, but you probably have a fairly good working idea of what the BBC's about already, given that you're here. But let's just say without the Beeb, we'd all have to do without such delights as Doctor Who, Are You Being Served?, Sherlock, The Office, Merlin, Top of the Pops, your favorite thing that I haven't mentioned, my favorite thing that I haven't mentioned, and the Teletubbies. A horrific prospect, I trust you'll agree.
Celebrations of the start of BBC broadcasting have been a relatively muted affair over in the UK, apart from a few specially commissioned programmes, although one very interesting project did emerge, from the studios of Damon Albarn, leader of Blur and Gorillaz (among many other things).
He made an audio collage of old BBC transmissions, named "2LO Calling" after the first transmitter at Marconi House, on The Strand in London. Elements include the chimes of Big Ben, sound footage of the first broadcast from the 2LO transmitter, messages from BBC listeners all over the world, commentary from the Cameroon election, a blackbird, a skylark and the number one song in November 1922: "Three O'Clock in the Morning."
Then there's a quotation from Bertrand Russell – "love is wise, hatred is foolish" – rendered in Morse code, and Damon playing some sombre piano along with the BBC's famous radio timecheck noise, the "pips."
Damon told BBC news: "There is a special musicality to some of the vocal messages, which I tried to preserve. Added to that, I got to do what I've always wanted – to play along with the pips."
And to make a real occasion out of it,. the composition was played today across 55 different BBC radio stations, the first scheduled simultaneous broadcast (ie. not counting breaking news) across all stations that the BBC has ever attempted, and it's thought the audience reached could be as many as 80 million people: more than the population of Britain.
Here's Damon's audio collage in full (mp3 link)
Read More
Filed Under: