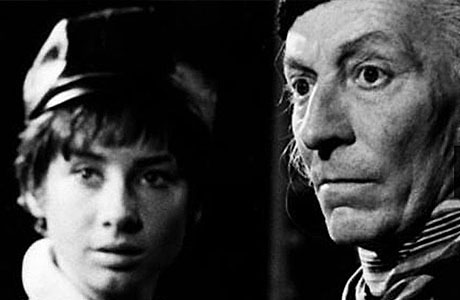 49 years ago today, families all over Britain were sitting at their black and white TV sets, preparing to watch a new TV show that, according to the TV listings, didn't seem especially sure what its name was. It was one of only two possible broadcast choices that night, as there were only two channels available at the time. Both the BBC and ITV were trying hard to figure out what they could do with this new and popular medium, but were still largely devoted to recreating theatrical performances for a living room audience.
At 5:15pm, there will have been a plummy announcement, saying an exciting new drama was about to start, in the way that all new TV shows are trailed, and then this will have appeared on the screen:
http://www.youtube.com/watch?v=YZa272j_3TI
Now, we credit the modern age with many unsettling sights, but can you imagine seeing, in your own living room, that arc of light bend and separate for the first time, while an instrument you'd never heard before issued that oddly martial, oddly swinging rhythm? Surely you'd wonder if your set was on the blink. And then that celestial melody comes whooshing out, like the vengeful death cry of an ghostly owl, while blobs of light swirl around like a lava lamp in a hall of mirrors and the words Doctor WHO suddenly appear, the capital letters adding insistance to a question that isn't being asked (no question mark, y'see).
If you weren't sure what to expect before it began, surely you'd have to watch the whole thing now, in case reality itself was about to fall over.
And never mind that most of the first episode, An Unearthly Child, is devoted to the domestic investigation of an unusual pupil by two schoolteachers, the bar has been so impressively raised by those opening credits that the show could scarcely have been more itself from the outset had a Dalek and Cyberman been pictured making a sonic screwdriver from an old scarf, in a fez.
The point being, in any long-running cultural institution, it's common to suggest that there are golden eras. Things take a while to find their stride, some ideas which now appear integral to the whole endeavor – such as regeneration, or that sonic screwdriver – don't arrive for years, and maybe this means the preceding time now looks less sure of itself than it once appeared.
With Doctor Who that's not true. By the time the Daleks had all been killed off in the second story, the show had not only established the style and themes that are still in use today, but had achieved the status of a national phenomenon. They even made TWO movies based on the First Doctor (granted, not good movies, but movies nonetheless) and had to invent the idea of regeneration in order to keep the show going when William Hartnell's ill health forced him to retire. Doctor Who arrived from the future fully formed, as if hand-delivered from an actual TARDIS.
Yes, some stories were better than others, some ideas worked then and now look silly, and some things they got right straight away, but it's still easy to see everything that makes the current TV show such an singular television event from those opening moments. That theme tune, those whooshing effects, and, eventually, an eccentric man in a blue box that is larger on the inside, what more do you need?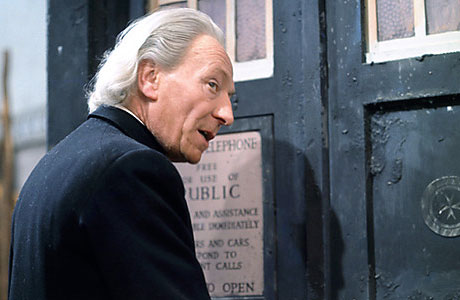 To celebrate 49 years, the official Doctor Who site has been expanding with almost a hundred galleries and new clips, photo-novels and Fact Files from the William Hartnell era. Classic Dalek tales like The Chase and The Dalek Invasion of Earth, or the first Cyber-contact in the The Tenth Planet. Go see!
Read More
Filed Under: