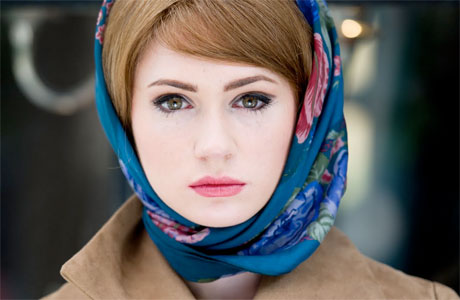 Ambition is a funny thing, especially when squared up to reality. If you were to be shown Karen Gillan's bucket list from 10 years ago, assuming such a thing existed, you can bet her ambitions would not have included Meeting A Dalek or Appearing On A Lunchbox by the time she was 25. Maybe there would be a suggestion that she'd be good as a famous model in a biopic – something she can now tick off after We'll Take Manhattan – or the hope for a chance to show off her comedic skills – not just The Kevin Bishop Show, but lots of Amy Pond too – but you couldn't wish to be what Karen Gillan is right now, because there wasn't anything quite like that then, short of getting a role in Harry Potter or a superhero franchise.
There again, five years ago it would be fairly easy to write "Doctor Who assistant" on your wish list with some degree of understanding as to what that may entail. By the time of Karen's 21st, we'd had Billie Piper as Rose, and then Freema Agyeman as Martha Jones, and Catherine Tate was poised to take her place as Donna Noble. Newspapers were excited about these lead actors, toys were hitting the shops, and yes, lunchboxes were being prepared. Karen even got a taste of the Time Lord action as a soothsayer in Fires of Pompeii, so it would be easy for her to see what was possible, given the right opportunities.
Whether that means she'd have been prepared for the still-escalating success of Doctor Who – last year's most downloaded TV show off American iTunes, don't forget – and all of the responsibilities that come with that is another matter. The fact is she's ONLY 25, and she's already done things she couldn't have dreamed of when she was first starting out as an actress.
Lord knows what she'll have achieved by the time she's 50, but it's going to be a lot of fun finding out.
For a full(ish) rundown of Karen's career outside of Doctor Who, check out her Life Outside The TARDIS special we ran a few months ago.
Read More
Filed Under: