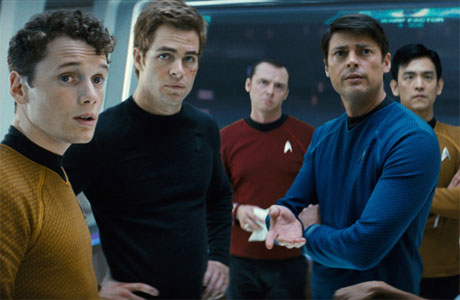 Technically this isn't a British movie, but given that the new Star Trek film stars official Anglophenia Hall of Famers* Simon Pegg, Busy Benedict Cumberbatch AND Noel Clarke, we're claiming it as one of ours for the foreseeable future.
So, let's start with the basics. It's called Star Trek: Into Darkness (we might've added the colon, its use is not confirmed at present), it has been directed by JJ Abrams, following on from his hugely successful reboot of the Star Trek franchise, and until very recently, the only thing anyone knew about it was taken from a few solitary shots that had appeared on the internet.
Now a press release has been released that contains elements of the plot. Nothing too spoilery, but naturally anyone that wants to be entirely surprised by the movie would to well to move on to something else. Look! We did a personality quiz about Top Gear! Over here!
OK, for the rest of you, here's the plot:
"When the crew of the Enterprise is called back home, they find an unstoppable force of terror from within their own organization has detonated the fleet and everything it stands for, leaving our world in a state of crisis.
With a personal score to settle, Captain Kirk leads a manhunt to a war-zone world to capture a one man weapon of mass destruction.
As our heroes are propelled into an epic chess game of life and death, love will be challenged, friendships will be torn apart, and sacrifices must be made for the only family Kirk has left: his crew."
I don't think they mean "chess game" in the literal sense.
Star Trek: Into Darkness will be released on May 17, 2013.
* Note: There is no actual Anglophenia Hall of Fame (as yet), but if there was one, those three would definitely be in it.
Read More
Filed Under: