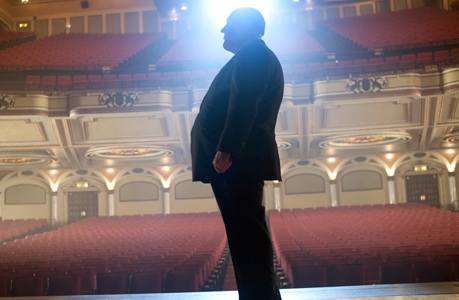 As we're stuffed from celebrating the Pilgrims' first harvest after leaving England for America, let's also be thankful that so many talented Brits will be populating American screens this weekend.
Yes, it's time to play another round of "Find the Brit."  That's the fun game – all players welcome – in which we strive to identify the U.K. and Commonwealth-connected cast members and directors in movies newly arrived at the local multiplex.
The big winner this week is Hitchcock, which stars Sir Anthony Hopkins as the legendary British film director, Alfred Hitchcock, and Dame Helen Mirren as Hitchcock's wife and behind-the-scenes helpmate, Alma Reville. That's two titles and two Oscar winners crammed into one movie.
The film focuses on the horror master's efforts to get one his masterpieces, Psycho (1959), made despite receiving little support from the studios. The movie is slight but fun, with Hopkins and Mirren clearly pleased as punch to be acting together.
Bonus: Aussie Toni Collette turns up as Hitch's devoted secretary.
Other contenders in Find the Brit:
• Rafe Spall, the London-born son of veteran character actor Timothy Spall, turns up as a writer in Life of Pi, the new Ang Lee adventure drama based on the bestselling book by Yann Martel.
• Aussie Chris Hemsworth (brother to fellow movie stars Liam and Luke) stars in Red Dawn, a remake of a 1984 action film about resourceful American teenagers who save their town from a Russian invasion (it's now North Koreans in the new version). Among his co-stars is a fellow countrywoman, Isabel Lucas.
• Englishman Jude Law provides the voice for Pitch, one of the major characters in Rise of the Guardians, an animated film aimed at young viewers.  Also lending their vocal talents are Hugh Jackman and Isla Fisher, both of them hailing from Down Under.
• Silver Linings Playbook, the indie film that deservedly has garnered strong reviews and Oscar buzz, goes wide this week after opening in select markets last weekend. Among its leads is Jacki Weaver, the veteran Australian actress who first gained notice on these shores for her Oscar and Golden Globe-nominated performance in Animal Kingdom two years ago.
———————————
If we missed someone, let us know.
———————————
Read More
Filed Under: