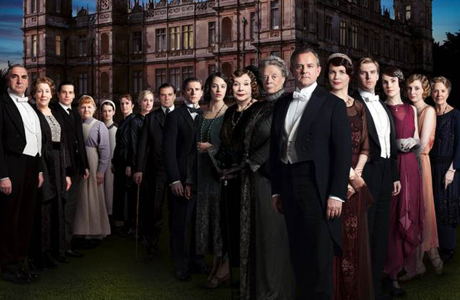 Christmas came early this year for Downton Abbey fans. That's because it's now official that there will be a fourth season of the popular period drama.
That means more heated looks between Lady Mary and Matthew Crawley, more of Mrs. Patmore's pies and, best of all, more wicked one-liners from the Dowager Countess (Maggie Smith).
ITV, the British television network that airs the show in the U.K., announced on Friday that it is renewing the period drama for 2013. The fourth season will consist of eight episodes, with an extended episode for Christmas, which is in keeping with the pattern of previous seasons.
"Viewers can look forward to more drama, comedy, love, hatred, jealousy, rivalry, ambition, despair and romance," said executive producer Gareth Neame. He also promised new additions to the cast.
ITV's announcement comes just days after Julian Fellowes, the creator of the hit series, told the Hollywood Reporter that he was expecting a fourth season. "I think it would be pretty odd if there wasn't," he said.
Downton's third season recently finished in England, though the Christmas special has yet to air. Ratings this year were the highest ever for the series in the U.K., averaging 9.7 million viewers.
American fans will get a chance to catch up with the upstairs and downstairs denizens of Downton Abbey when the show's third season begins Jan. 6 on PBS.
Read More
Filed Under: