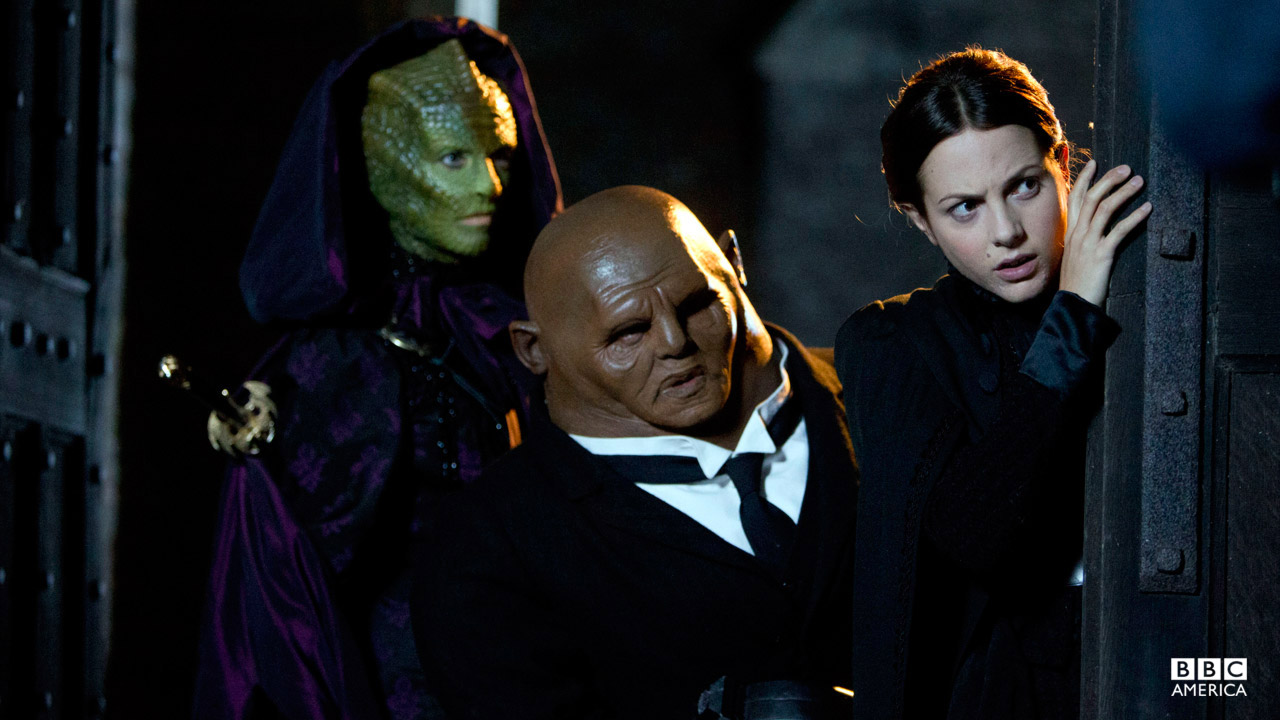 Let's face it, by FAR the largest stamp on the Whovian dance card over the past week has been the successful launch of both the prequel and trailer for the Christmas special, called The Snowmen, which is coming to BBC AMERICA on Christmas Day. These 'minisodes' have set the Doctor up in the Victorian era, sad and bitter from the loss of Amy and Rory, and determinedly not rushing around saving the planet any more.
Here's the prequel, entitled The Great Detective (and narrated by Mark Gatiss):
Of the Christmas special itself, Steven Moffat, explains: "The Doctor at Christmas is one of my favorite things – but this year it's different.  He's lost Amy and Rory to the Weeping Angels, and he's not in a good place: in fact, he's Scrooge.  He's withdrawn from the world and no longer cares what happens to it.  So when all of humanity hangs in the balance, can anyone persuade a tired and heartbroken Doctor that it's time to return to the good fight.  Enter Jenna-Louise Coleman…"
Matt Smith adds: "For this year's Christmas special we have the wonderfully villainous Richard E Grant as Doctor Simeon.  As well as lizards, Victorian assassins and deranged warriors from the future, who all return to convince the Doctor that he should board the TARDIS again and save the world.  Add to that Jenna-Louise Coleman and so begins the Christmas Special 2012.  I hope everyone enjoys it!"
We'll come back to the trailer in a bit. In the meantime, here's what else has been going on in time and space this week:
By now you've probably heard about the plans for an upcoming new Star Wars movie. David Tennant was invited to appear in Star Wars: The Clone Wars, but what about a role in a feature length film?
When asked if he has any interest in making an appearance in the new Star Wars, Tennant replied, "It'd be great! Star Wars is such a key part of my childhood and my entire life, you know, these are the fairytales of our era." (via BBC Newsbeat)
• Congratulations are due to Doctor Who on being a People's Choice Award nominee in the Favorite Sci-Fi/Fantasy Show category! Voting is now live and runs through December 14th so show your love and VOTE OFTEN!
And maybe if we win, someone could pop over to Tom Hanks's house and get him onboard with the new series? It's never too late:
http://www.youtube.com/watch?v=bzWZpoDPLDo
Salt and pepper shakers indeed!
• Hats off to the very public-spirited Hannah Durham, who found a copy of a Doctor Who script in the back of a cab in Cardiff, and returned it to the BBC studios without reading it or uploading secrets to the web, despite it being the deleriously anticipated Neil Gaiman Cyberman story. A very grateful Neil tweeted his "world-sized" thanks to Hannah, who confessed she'd never heard of Whovians, but was grateful for all the positive messages her act of kindness precipitated. (via Metro)
• This is new to us, if not strictly speaking new, and deserves a wider airing in any case. Paul Otaking (Alponk45 on MetaTube) made his own anime cartoon of the Third Doctor, using snippets of the actors' voices (everyone from Jon Pertwee to Nicholas Courtenay), just to see if it would work. And whaddya know, it does:
Which begs the question: if we really can't get back those fabled long-lost Second and First Doctor episodes, but we still have the audio track to work from, might this not be a way to go for official releases?
• Did you see the Doctor Who Knitting Circle post we did last week? We had a few people asking if we could feature some other woollen Who designs, including this TARDIS scarf, and this TARDIS Kindle case, so, now we have.
• Meanwhile, on Tumblr. This wouldn't be the worst idea ever, would it:
• And this is just a very cool story:
Merlsy's political science professor got in trouble for his TARDIS door because "people might think police are actually available in his office." He responded by posting the following signs on his bulletin board:
Coolest professor ever, amirite? (Merlsy)
• So, Sixth Doctor Colin Baker is still in the Australian jungle for I'm A Celebrity, Get Me Out Of Here, and one of the strangest things he's had to do so far has been to entertain his camp-mates by rapping alongside the legendary darts player Eric Bristow:
http://www.youtube.com/watch?v=VNRebJDjU1A
And, to finish where we began in classic Time Lord style, here's that Christmas Special trailer one more time:
TTFN!
Read More
Filed Under: